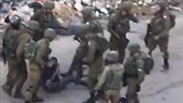 Screenshot
Photo: B'Tselem
IDF launches probe into footage of troops hitting cuffed Palestinian
Incident recorded by Hebron resident shows group of IDF soldiers randomly hitting an arrested Palestinian in the city at the conclusion of a 'day of rage' two weeks ago after President Trump's Jerusalem declaration; probe handed over to military Criminal Investigation Division.
Military Police have launched an investigation into an incident that took place in Hebron two weeks ago and that was captured on camera showing a group of IDF soldiers hitting a handcuffed Palestinian.

The incident occurred at the conclusion of violent unrest on Friday December 8 staged by Palestinians against Israeli security forces, following US President Donald Trump's recognition of Jerusalem as Israel's capital.

Footage of soldiers hitting arrested Palestinian (צילום: בצלם)

Soldiers can be seen in the footage, filmed from a window of a building nearby, surrounding the handcuffed Palestinian, as some begin randomly striking and kicking him as he is being led to a checkpoint.

After troops arrested one of the protesters, the left-wing group B'Tselem recorded the force used by the soldiers, prompting the IDF to announce that it was looking into the matter. Following a preliminary investigation, it was sent on to the military Criminal Investigation Division.

According to B'Tselem, the scene was recorded by a Hebron resident from his home when he heard the Palestinian shouting.

Israeli security forces are preparing Friday for yet another declared 'day of rage' in the West Bank and the Gaza Strip which have become expected features of the conclusion of Muslim afternoon prayers since Trump's Jerusalem declaration.

Violent clashes broke out Wednesday afternoon between around a thousand Palestinian rioters and Israeli Border Police in Qalandiya in another so-called day of rage declared in the West Bank by Palestinian factions, including Palestinian Authority President Mahmoud Abbas's Fatah party.

Last Friday, three Palestinian rioters and one terrorist were shot dead while about 160 more were wounded on Friday, medical officials said, as "day of rage" protests over Trump's recognition of Jerusalem entered their second week.