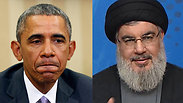 Former President Obama (L) and Hezbollah's Nasrallah
Photo: Reuters, AFP
Sessions wants review of Obama-era Hezbollah investigations
AG Sessions orders review following Politico exposé purporting Obama administration foiled Project Cassandra, a DEA program intended to stymie drug trafficking, money laundering by Hezbollah; report said administration interceded to prevent collapse of Iran nuclear deal; 'This is a significant issue for protection of Americans,' Sessions said.
Attorney General Jeff Sessions ordered a review of "Project Cassandra", a Drug Enforcement Administration (DEA) program targeting drug trafficking by Iranian-backed terrorist organization Hezbollah created during the administration of President Barack Obama, Fox News reported Saturday.

Sessions didn't say what prompted the review and stopped short of accusing the prior administration of wrongdoing. But the announcement comes after a Politico report that raised questions about whether Obama administration officials thwarted investigators' work on the program for fear of jeopardizing the Iran nuclear deal.

The American Department of Justice told Fox News Sessions had ordered a review of the DEA's actions "to evaluate allegations that certain matters were not properly prosecuted and to ensure all matters are appropriately handled."

"While I am hopeful that there were no barriers constructed by the last administration to allowing DEA agents to fully bring all appropriate cases under Project Cassandra, this is a significant issue for the protection of Americans. We will review these matters and give full support to investigations of violent drug trafficking organizations," Sessions himself said in a written statement.

The persons in charge of Project Cassandra, Politico reported in its exposé, worked out of a DEA facility in Chantilly, Virginia and requested authorization for some significant investigations, prosecutions, financial sanctions and arrests, but senior Justice and Treasury Department officials within Obama's administration outright denied or otherwise delayed approval for the requests.

Thus, by putting various obstacles in the project's way, Obama administration officials allegedly assisted Hezbollah in becoming the worldwide security threat it is today.

"Protecting our citizens from terrorist organizations and combating the devastating drug crisis gripping our nation are two of the Justice Department's top priorities. Operations designed to investigate and prosecute terrorist organizations that are also fueling that drug crisis must be paramount in this administration," Sessions added.

Department of Justice officials further told Fox News the review Sessions ordered could lead to people affiliated with Hezbollah being prosecuted, and could also lead to an Inspector General inquiry into personnel matters relating to the project.

"The DEA has worked tirelessly on this front. I am committed to giving our hard working and dedicated DEA agents all the tools that they need to allow them to shut down these drug rings," the attorney general vowed.

"The Department of Justice is absolutely committed to investigating and prosecuting international drug trafficking organizations and with the assistance of our DEA and FBI agents we will leave no stone unturned as we work to making America safer," he concluded.

Since Politico's report was published earlier this week, several Republican lawmakers have demanded answers to the questions arising from it. Sources previously employed in Obama's administration have thus far denied the allegations, saying they were false.

"There are many reasonable critiques of Obama's foreign policy. The idea that he was soft on Hezbollah is not one of them. The story is so manufactured out of thin air that it's hard to push back except to say that it's a figment of the imagination of two very flawed sources," former Obama official Tommy Vietor tweeted.
'Politics played no part'
Project Cassandra members told Politico that Obama administration officials blocked or undermined their efforts to go after top Hezbollah operatives, including one nicknamed 'The Ghost'— one of the world's biggest cocaine traffickers, including to the US, as well as a major supplier of conventional and chemical weapons for use by Syrian President Bashar Assad against his people.

"This was a policy decision, it was a systematic decision," David Asher, who helped establish and oversee Project Cassandra as a Defense Department illicit finance analyst, told Politico. "They serially ripped apart this entire effort that was very well supported and resourced, and it was done from the top down."

Asher and his team worked in Beirut with Israeli intelligence on an operation intended to penetrate the inner workings of a Lebanese bank in order to track the funds being transferred.

The American-Israeli team collected evidence linking businessman Ayman Joumaa, a Lebanese drug kingpin affiliated with Hezbollah, to drug cartels operating in both Colombia and Mexico and to smuggling tons of cocaine into US territory through the Los Zetas cartel.

Joumaa was also linked to money laundering operations, with $200 million being laundered every month through the aforementioned Lebanese bank as well as various real estate transactions.

Former Obama administration officials, however, denied that they had derailed any actions against Hezbollah or its Iranian allies for political reasons.

"There has been a consistent pattern of actions taken against Hezbollah, both through tough sanctions and law enforcement actions before and after the Iran deal," Kevin Lewis, an Obama spokesman who worked at both the White House and Justice Department in the administration, told Politico.

But according to Asher, "The closer we got to the (Iran deal), the more these activities went away. So much of the capability, whether it was special operations, whether it was law enforcement, whether it was (Treasury) designations—even the capacity, the personnel assigned to this mission—it was assiduously drained, almost to the last drop, by the end of the Obama administration."

The Associated Press contributed to this report.