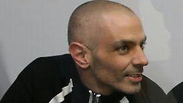 Amouyal in court
Photo: Motti Kimchi
David Amouyal, whose wife Elia Kadosh is suspected of orchestrating an attack on security guards at the Ichilov Hospital, was charged on Tuesday with a series of violent offenses in connection with the assault three months ago.

Amouyal's friends and Kadosh herself have already been indicted, but Amouyal fled the country and was arrested only last Thursday at Ben-Gurion International Airport upon his return to Israel.

Prosecution representatives said at the court hearing on Tuesday that there are ongoing negotiations to reach a plea deal with all of the other defendants in the case, excluding Amouyal.





Kadosh was charged in October with intimidation and assaulting police officers and was later indicted for two additional incidents of assault on a taxi driver and another police officer.

The four men who carried out the assault along with Amouyal were charged with assault, aggravated battery, conspiring to commit a crime and intimidation. Amouyal was charged with the same offenses.

Amouyal, 35, was convicted 11 times in the past in 55 different cases, of violence-related offenses, the possession of weapons, drug offenses, property offenses, false imprisonment, extortion and intimidation and others. He served eight prison sentences as a result.

Kadosh and Amouyal were reunited in court after she has been on house arrest while he was in detention with the four other suspects.

The indictment against Amouyal describes the incident that led to the assault, which began when Kadosh started verbally abusing the medical staff at the Ichilov Hospital, claiming she was not receiving proper treatment.

After she was removed from the ER by security guards, she threatened the guards and medical staff, telling them: "Just you wait for my husband to get here."

Some two hours later, Amouyal and his four friends arrived at the hospital and located the security guard who removed Kadosh, with Amouyal telling him: "I'm your devil, just you wait. Not in front of the cameras, I'll get you outside."

According to the indictment, Amouyal and the four other defendants then entered the ER, while the security guard and two other guards followed them inside.

The five then attacked the security guard, hitting him in the head and back. After he was knocked down to the ground, they kicked him in the face and in other parts of his body.

The five also beat up the other two security guards, punching and kicking them. A fourth guard who came to the aid of his colleagues also came under attack, receiving a punch to the face.

"The violent, bullying, and unconstrained behavior of Amouyal and the others is reflected in the security camera video and the testimonies of the medical staff," the arrest request said. "It indicates the level of violence used against all security guards."