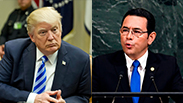 Presidents Trump and Morales
Photo: AFP, EPA
The United States did not pressure Guatemala into announcing it will move its embassy in Israel to Jerusalem, the Central American state's foreign minister said Wednesday.

"There wasn't any pressure. There wasn't any overture from the United States to make this happen. This was a decision by the government, the state and the foreign policy of Guatemala," the minister, Sandra Jovel, told a news conference in Guatemala City.

Her affirmation follows Guatemalan President Jimmy Morales's announcement on Sunday that his country was to move its embassy in Israel from Tel Aviv to Jerusalem.


The declaration made Guatemala the first—and so far, only—country to follow US President Donald Trump's lead in saying its embassy would be relocated to the holy city.

Guatemala, like the United States, has not said when its embassy move would happen.
'Historical allies'
Last week, two-thirds of UN members states—128 in all—rejected Trump's recognition of Jerusalem as Israel's capital.

Nine countries voted against the UN General Assembly resolution: the United States, Israel, Guatemala, Honduras, the Marshall Islands, Micronesia, Nauru, Palau and Togo.

Other countries abstained or did not enter a vote.

The United States warned it would look at cutting funding to countries that voted against it.

On Sunday, it followed through on the threat by announcing its plan to cut $285 million from funds it provides to the United Nations 2018-2019 budget.

Jovel told the news conference with an agitated tone: "We have not had pressure from any country, because we are friends and historical allies with Israel ... We have asked nothing of Israel nor the United States."

Her government insists the embassy is not "moving" but rather "returning" to Jerusalem, where it was originally located until being shifted to Tel Aviv in 1980.

Several mainly Latin American countries had diplomatic missions in Jerusalem until a 1980 UN Security Council resolution condemning Israel's attempt to alter the "character and status" of the city, saying it was a barrier to peace.

Jovel said the plan to put the embassy in Jerusalem "had been considered for the past five months, and things just lined up in a certain way and also the resolutions in the UN and everything contributed to saying that now was the right time."
Israel predicts more will follow
Guatemala's assertion that it decided the move alone, without being pressed by the United States, follows criticism from the Palestinian foreign ministry and a focus on how reliant the country is on US aid and trade.

Morales, like Trump, is a former TV entertainer who was elected president as an outsider promising to shake things up.

His political future is fragile as a UN-backed body works with Guatemalan prosecutors to investigate claims of corruption against him.

Israeli Prime Minister Benjamin Netanyahu has said the announcements by the US and Guatemala were "just the start" and predicted "there will be others."

The European Union, however, has ruled out any change to its position.

Presidents Vladimir Putin of Russia and Recep Tayyip Erdogan of Turkey reacted by saying they both support creating a Palestinian state.