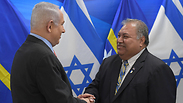 Prime Minister Netanyahu meets with Nauru President Baron Waqa
Photo: Amos Ben-Gershom
Israel purchased a sewage treatment system for Nauru, a tiny island nation in the Pacific Ocean, only two weeks before the country voted against a UN General Assembly resolution criticizing the US recognition of Jerusalem as Israel's capital.

The Foreign Ministry's Tenders Committee approved the purchase of the sewage treatment plant at the cost NIS 250,191 ($71,997) without a tender.

While Nauru is only 21 square kilometers in size with a population of a mere 11,359 people, it still has a vote at the UN equal to that of the US, Russia and China.

Explaining the decision to approve the purchase without a tender, the Tenders Committee wrote that "Nauru is the smallest independent island nation with regards to its population and territory. It has close friendly ties with Israel. The president of Nauru appealed to the prime minister, asking to receive aid in the form of a sewage treatment plant, which fits the unique needs of the island."

The sewage treatment plant will serve a school on the island. The Foreign Ministry hired the services of a company that developed the unique sewage treatment system and the cost of the deal include all additional expenses, including flights, accommodation and living expenses for the team installing the system, as well as the delivery cost, among other things.

The deal was approved by a special committee headed by Foreign Ministry Director-General Yuval Rotem, the ministry's legal adviser Tal Becker and the ministry's accountant Sima Fischer.

Nauru has already voted for Israel in the past in important resolutions at the UN General Assembly, such as the Palestinians' 2012 bid to upgrade its status at the UN to one of a non-member observer state.

However, Nauru did not vote on a September 2015 resolution in which the General Assembly approved the Palestinian request to have their flag fly among the other country flags at UN buildings.

The Foreign Ministry's Tenders Committee also approved the purchase of a mobile desalination system at the cost of NIS 400,000 ($115,184) to be given as a gift to India ahead of Prime Minister Benjamin Netanyahu's state visit there on January 14.

It is the same desalination system Netanyahu and Indian Prime Minister Narendra Modi drank from during the latter's visit to Israel last July.

Unlike Nauru, however, the gesture did not help, as India voted against Israel and in support of the resolution criticizing the US recognition of Jerusalem.

Channel 2 reported on Wednesday that Netanyahu plans to start a fund granting $50 million to 50 developing countries to "encourage them" to vote for Israel at the UN.