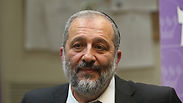 Interior Minister Deri
Photo: Alex Kolomoisky
Deri: I checked whether MK Glick can vote during shiva
After attacking opposition over refusal to offset vote with MK Glick during shiva for his wife, Interior Minister Deri admits to indirectly contacting Otniel rabbi to ascertain whether he could halachically vote on supermarkets bill; 'No offsetting policy has been a success,' says Opposition Coordinator Hasson.
Interior Minister Aryeh Deri (Shas), who sponsored the supermarkets bill seeking to close supermarkets and convenience stores on Shabbat, said Tuesday he had made overtures to ask the Otniel rabbi whether it was halachically permissible for MK Yehuda Glick to vote on the legislation during his wife's shiva (the Jewish seven-day mourning period).

Deri said he had contacted the head of the Har Hevron Regional Council and asked him to contact the rabbi of the settlement in which Glick resides on his behalf. Glick is currently sitting shiva over the death of his wife Yaffa, who passed away Monday after six months in a coma.

"I feel the pain of Yehuda Glick over the death of his wife," Deri said. "I attempted to ascertain whether he could come to the Knesset to vote on legislation that maintains Shabbat's holiness. If I hurt my friend Yehuda's feelings, I apologize."

Deri attacked the opposition's refusal Monday to offset Glick's vote. "I heard about the opposition's unprecedented conduct—and I'm including Yisrael Beytenu in this—and am awed by the lack of humanity on display here, and indifference to people in their darkest hour.

"Is that the message we want to be sending the public? I call on the heads of the opposition parties to regain their senses and return to humanity. The vote will pass anyway, God willing, so there's no reason to turn political disagreement into a display on inhumanity," Deri said.

Vote offsetting is a common practice in the Israeli parliament, according to which a member of Knesset who cannot attend an important vote reaches an agreement with a lawmaker on the other side of the aisle that they would both not vote.

The coalition decided to postpone the bill's second and third readings, after discovering it will not be able to reach the requisite majority to pass it with MK Glick absent, along with Shas Religious Services Minister David Azoulay, who is hospitalized.

The opposition and coalition member Yisrael Beytenu, which also objects to the bill, both refused to offset with Glick, which raised tumult in the Knesset.

The Yisrael Beytenu party is not alone in the coalition in its objection to the legislation. MKs from Kulanu and even the ruling Likud party have expressed their opposition to the controverisal bill.

Minister of Social Equality Gila Gamliel of the Likud party also voiced her displeasure with the bill in a Ynet studio interview Tuesday morning. "I truly hope the Haredi parties will see this week the error of their ways and the tragedy in passing this bill," she said.

"Looking at it from the Haredi perspective, as people not interested in opening supermarkets on Shabbat, why leave it up to the interior minister's whim? Today it's Deri, but tomorrow it may be (Yesh Atid Chairman Yair) Lapid—so I consider the bill to be fundamentally flawed," Gamliel explained.

"Once the government changes and an interior minister begins his term on behalf of Lapid, and he determines supermarkets will remain open (on Shabbat), they won't be able to change it later. That is, the law would do more damage to Haredim than anyone else. It would be preferable if the legislation did not pass, and I certainly hope it doesn't. I hope the Haredi parties will also reexamine it and see how bad it is," she asserted.

Commenting on the offsetting issue, Gamliel said, "Things have definitely been blown out of proportion. Yehuda Glick is not supposed to come in to the Knesset as he's sitting shiva over his wife's death. This is my fourth term, and I've never seen relations between coalition and opposition deteriorate this much to the degree of losing morality and humanity."

"I think the opposition made a mistake in its conduct here, as did the coalition. Instead of just announcing one week's postponement, this strange battle began that included calling Glick in to vote when he's at the funeral," Gamliel bemoaned.
Hasson: 'No offsetting policy a success'
Opposition Coordinator and head of the Zionist Union's parliamentary group MK Yoel Hasson commented on the bill's postponement, saying, "Thanks to our no-offsetting and no cooperation with the coalition policy, we have effectively denied them the majority (they need to pass the law)."

On allegations of "inhumanity" over his refusal to offset with MK Glick, Hasson said, "When I read that Glick's advisor said the coalition intended to demand he come and vote during a shiva over a bill that has nothing to do with national security or the budget—I didn't know who should be ashamed and who was being inhumane."

Regarding what he thought will transpire later this week until the Knesset reconvenes to vote on the legislation, Hasson said, "Several things can happen during the postponement: many more municipalities will enact bylaws on the matter, and I hope we'll also expose underhanded dealings. I saw Haredi MKs turning a blind eye to several exclusions from the bill just for it to pass."

On his party's position to exclude gas station convenience stores from the bill's purview, MK Hasson said, "We at the Zionist Union have already decided to vote against the exclusion. We think this bill is bad and harmful. Most of the public, even Likud voters who are partly traditionalists and want the Shabbat observed, don't want it to turn to Yom Kippur. We have a week to get more coalition members to switch, that's our strategy."