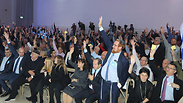 Likud Central Committee votes in favor of annexation. An apparent political spin
Photo: Motti Kimchi
Failure is the result of exaggeration. In the 1990s, the Oslo Agreements were based on conceptual exaggeration. The idea that an arch-terrorist like Yasser Arafat could be turned into a real partner for peace, and that we could arm terrorists with weapons and hope for the best, was rooted in wishful thinking in the Left. Bloodshed and dozens of terror attacks could have been prevented, if it weren't for this exaggeration, but they wanted it so badly that they closed their eyes and rushed forward.

In 2018, most Israelis believe the conflict can't be solved in the spirit of the Oslo vision. It can be managed. And when it isn't managed, we just keep going.

The Likud Central Committee's decision to apply Israeli law to Judea and Samaria, on the other hand, suffers from two main flaws: exaggeration and an unwillingness to manage the conflict, but simply to keep going. With all its festivity, the decision raises a smoke screen over the fact that successive right-wing governments haven't annexed a single inch in Judea and Samaria. We are basically being fooled.

There is no real process aimed at legally creating established facts on the ground. The State of Israel is failing to take advantage of Donald Trump's presence in the White House to advance right-wing ideology. At best, it is putting out fires and promising the same 300 homes in Beit El over and over again.

Former Minister Gideon Sa'ar is right when he says it's time to lift the evacuation threat from Judea and Samaria communities, but what does that have to do with the Likud Central Committee's decision? The last time they made a decision on the Greater Land of Israel was a moment before the Likud-initiated disengagement. What does the decision have to do with what is happening in practice?

There is no such thing as applying the law exclusively to Jews. The law can be applied to a territory. Any intelligent person can understand that. Whoever lives in that territory—both Jews and Arabs—will become an Israeli citizen. It's what could have happened if the Ma'ale Adumim area or Gush Etzion had been annexed, as Likud promised. Neither happened, and judging from the level of exaggeration, it isn't going to happen anytime soon.

So what exactly did Likud's Central Committee decide to do? Are we going to annex the Palestinian Authority territories? Or maybe only Area C, as Bayit Yehudi leader Naftali Bennett's plan suggests? Is this an ideological statement like "Two Banks has the Jordan—this is ours and, that is as well," when there is actually no such plan, or is it just a statement for the sake of making a statement?

Several days ago, my colleague Ben-Dror Yemini slammed Likud's decision and Minister Gilad Erdan for failing to prevent it, arguing that it provides BDS activists with a weapon. That's possible, but there is a price that is worth paying—as long as there's a purpose. A political spin is not a purpose.

On the day after the decision, Judea, Samaria and the Jordan Valley will remain "administered territories" in official Israeli parlance. Netiv HaAvot and other communities will deal with the same odd situation in which their fate is decided by the court rather than the government. There is no real plan that can be presented to the American administration, and mainly to ourselves. The bottom line is that we got a party event with elected representatives and with a lot of statements and objections.

At the moment, there are two serious plans in the Right. One has to do with Gaza and includes creating carrots and economic measures to finally disconnect the strip from Israel. The plan's initiator, Minister Yisrael Katz, hasn't succeeded in holding a single cabinet discussion on the issue. The more he specifies the plan and adds practical measures, the more it slips away. There is no discussion to avoid having to make a decision.

The second plan is Bennett's, and it includes annexing the non-PA territory—applying Israeli law to part of the territory, with a clear understanding that the PA territories won't be annexed but will exist as an expanded autonomy or a "state minus," as Prime Minister Benjamin Netanyahu put it. Bennett's plan is unripe, but it's an excellent basis for a logical move.

Likud's Central Committee could have held a discussion on these plans— accepting, adjusting, changing or rejecting them. Instead, they voted on a decision that can't be implemented. There is no government that would annex Nablus and Jenin to give their residents National Insurance funds and education budgets. The law won't really be applied, as Likud is against a bi-national state.

So what do we have here? An apparent political spin. A party that has had trouble creating a political platform in the past three election campaigns, and is therefore moving back into its comfort zone—a sort of imitation Bayit Yehudi with additional exaggeration.