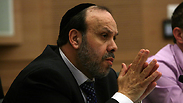 Religious Services Minister Azulay
Photo: Gil Yohanan
Shas minister will not resign to pass Supermarkets Bill
Religious Services Minister Azoulay backtracks on his decision to vacate his seat for fellow party member to help pass the Supermarkets Bill, as he is unable to cast his vote on the contentious legislation due to frequent absences over health problems.
Just hours after confirming Thursday that Minister of Religious Services David Azoulay (Shas) will leave his seat in the Knesset in order to ensure the approval of the Supermarkets Bill next week, Shas announced that the planned resignation has been canceled.

Azoulay, who has been frequently hospitalized recently due to health issues, was forced to be absent from the Knesset and was one of the reasons for the coalition's difficulties in obtaining a majority in the vote for the bill and its postponement to next week.

Prior to the cancelation of his planned resignation, Azoulay was set to continue to serve as minister of religious services, while his son, Yinon Azoulay, was expected to take his seat in the Knesset.


Next in line after David Azoulay on the party list are veteran Shas activists David Seida and Avi Amsalem, both of whom were expected to waive the position in favor of Yinon.

Shas leaders also considered the possibility of letting Azoulay resign under the Norwegian Law, which would have allowed him to retain his position as minister and return to his seat once his health improves, though each party is limited to only one such resignation per Knesset assembly.

Though Shas confirmed the move, Azoulay's associates were surprised by the publication of his planned resignation, saying it was neither discussed nor coordinated with them.

The move has been brewing in recent days in coordination with Shas Chairman Aryeh Deri, David Azoulay and his son Yinon.

The Supermarkets Bill would give the interior minister authority to strike down city bylaws including ones allowing store openings on Shabbat, affectively giving Deri the power to shutter supermarkets and convenience stores on Saturdays.

It is set to go up for preliminary vote next week.