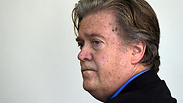 Ex-Chief Strategist Bannon: 'Let Jordan have West Bank, Egypt have Gaza'
Explosive new book details President Trump's first year in the White House; book quotes former Chief Strategist Bannon as saying regarding Trump's peace plan: 'Let Jordan take the West Bank, let Egypt take Gaza. Let them deal with it. Or sink trying'; Trump also reportedly told multiple people son-in-law Kushner was qualified to handle Israeli-Palestinian peace because 'the Kushners know all the crooks in Israel.'
A new book published Friday detailing a fly-on-the-wall account of Donald Trump's first year as US President unveils his former Chief Strategist Steve Bannon drafted a plan in which Jordan and Egypt would annex territories currently under Palestinian control to start off Middle East peace negotiations.

The Book, titled "Fire and Fury: Inside the Trump White House," was written by author and journalist Michael Wolff. It contains salacious and unflattering details about Trump and his associates, knowledge of which Wolff says he has thanks to his White House access.

Said access, he claimed, was given to him by Trump himself, who did so because he "liked an article Wolff wrote about him in 2016."

Aside from more personal details about his habits and relationship with his wife, the book contains minutes from conversations Trump and his associates had about issues that are still hotly debated.

One such item is the June 2016 meeting between Donald Trump Jr., son-in-law Jared Kushner, former Trump campaign manager Paul Manafort and a Russian lawyer named Natalia Veselnitskaya, which former Chief Strategist Bannon dubbed "treasonous and unpatriotic," according to the book.

Bannon allegedly remarked that Special Prosecutor Robert Mueller's investigation was closing in on the Trump family, adding, "They're going to crack Don Junior like an egg on national TV."

On another matter also involving Bannon, the beginning of "Fire and Fury" describes that immediately after Trump won the election, but before his inauguration, Bannon—who was then his confidant and considered the architect of the election win—attended a Manhattan dinner, also attended by Roger Ailes, the disgraced former president of Fox News who was forced to step down amid a flurry of sexual harassment accusations.

WH Press Secretary Sarah Huckabee Sanders refutes book's assertions

In that same dinner, Bannon presented the White House's plan for resolving the Israeli-Palestinian conflict. "Trump is working on the plan, it's his plan," Bannon told the dinner's six guests, one of which was Wolff. "Day one we're moving the US Embassy to Jerusalem. Netanyahu's all in. Sheldon Adelson is all in. we know where we're going."

Ailes, a longtime friend of Trump who passed away this past May, asked, "Does Donald know?"

"He knows, or he knows what he knows," Bannon replied with a wink.

Bannon later reportedly went into the details of the American administration's plan, saying, "Let Jordan take the West Bank, let Egypt take Gaza. Let them deal with it. Or sink trying."

"The Saudis are on the brink, Egyptians are on brink, all scared to death of Persia, and of what's going to happen in Yemen, Sinai and Libya. That's why Russia is so key. Is Russia that bad? They're bad guys. But the world is full of bad guys," Bannon said.

Ailes then remarked, "It's good to know they're the bad guys. The question is whether Donald knows."

Finding a solution for the Israeli-Palestinian conflict was entrusted in the hands of Trump's son-in-law Jared Kushner. The book mentions that Trump "gleefully told" multiple people Kushner would be able to untangle an issue as difficult as the years' long conflict because "The Kushners knew all the crooks in Israel."

Trump continued his assault on Bannon and on the book's author Saturday, remarking "Michael Wolff is a total loser who made up stories in order to sell this really boring and untruthful book. He used Sloppy Steve Bannon, who cried when he got fired and begged for his job. Now Sloppy Steve has been dumped like a dog by almost everyone. Too bad!"