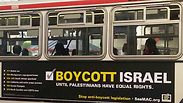 The official group for the Boycott, Divestment and Sanctions (BDS) movement, which seeks to vilify and isolate Israel internationally, uploaded a Facebook post this week urging their supporters to donate money because, "Israeli students are disturbing our activities by using an app and through social networking sites."

The disturbance BDS leaders complained about was Act.il, launched three years ago as an initiative by students of the Interdisciplinary Center Herzliya (IDC) and the Israeli-American Council (IAC) as a response to the rise in anti-Israel sentiments on social networking sites, especially after the IDF's military campaigns of Operation Pillar of Defense in 2012 and Operation Protective Edge in 2014.

More than 1,000 students, most of them at IDC, volunteer and use the platform to respond to what they see as anti-Israel slander on the web. IDC students hail from dozens of countries, enabling them to respond to online defamation in some 35 languages.

About six months ago, Act.il released a mobile app that was downloaded by thousands of people around the world and significantly widened its circle of activists.

The post on the BDS page continued, "They disrupted an internet event attended by senior BDS figures and they are paid trolls, racists, inciters and Islamophobes and they are spreading anti-Palestinian propaganda."

The post was received with glee among pro-Israel activists. "This post is a certificate of honor for our volunteers," said Yarden Ben Yosef, the administrator of Act.il. "If we have reached a point in which they are anxious about us and are using us to ask for donations, apparently we are doing a good job."
Israel bars BDS activists from entering country
More on BDS, Israel recently published a list of 20 organizations from around the globe whose members are banned from entering the country for advocating boycotts of Israel over the Palestinian issue.

Strategic Affairs Minister Gilad Erdan said Sunday that the groups blacklisted are the main ones who "operate consistently and continuously" against Israel using a "campaign of incitement and lies."

It is not clear how the ban will be enforced, but it could affect thousands of people.

Among the groups is the US-based Jewish Voice for Peace, which counts more than 13,000 members. Groups from France, Chile and South Africa are also among those banned.