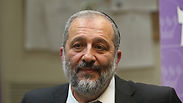 Interior Minister Aryeh Deri
Photo: Alex Kolomoisky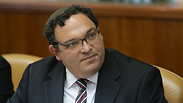 Rabbi Shai Piron
Photo: Alex Kolomoisky
Dear Minister Deri,

I have known you for many years. We grew up together in Bat Yam, a moderate city. We have some things in common, like our love for Judaism and our concern for the honor of Shabbat. But what you're doing now adds no love to Judaism and makes no contribution to the honor of Shabbat.

Let go of it, Aryeh. You'll receive a much bigger reward for quitting this unnecessary battle. Go for a different move: Establish a national agreement forum for Shabbat in Israel. Go for a joint discourse, a dialogue. Don't do it aggressively. Shabbat isn't a political matter. It's not about power. It belongs to everyone. Don't drive secular Jews away or traditional Jews. Don't turn Shabbat into a political battering tool.

You made many mistakes in the past week: The Yehuda Glick affair and the David Azoulay affair brought dishonor upon the religious world. Stop dragging Shabbat with you into the abyss.

There are those who acquire eternal life in a single hour. Pick up the phone, call the prime minister and say to him: "Mr. Prime Minister, I reconsidered. I'm not giving up my desire to protect the sanctity of Shabbat. I don't want Shabbat to become a day like all other days (we agree on that!), but I don't want to do it forcibly. We've all gone off the rails.

"I would like to appoint a committee led by a publicly accepted honorable rabbi and an Israeli intellectual. I'm interested in a six-month break. We may reach historic agreements. Yes, I know the words 'status quo' are empty words. The world has changed. Agreements reached 70 years ago are no longer relevant today. Listen to mayors, public activists, anyone wishing to offer a reasonable stance that cares for Israel's society and for Shabbat.

"Thank you, Sir, for your agreement. Aryeh Machluf Deri."

Believe me, this is reasonable advice which will save all of us from another unnecessary front of brotherly hatred. Shabbat won't forgive you for the damage you're doing. Let's make an historic move, together. Let's convince people of the importance of Shabbat without coercion. Simply because of its value. I know you agree with that.

You've fallen into a trap dug by others. Grab the rope, climb up and start leading.

Yours,

Shai Piron

Rabbi Shai Piron is a former education minister and founder of the Pnima movement.