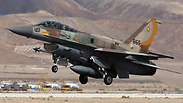 Syrian army says IAF fired at Syria with jets, missiles
Statement carried by state media says Israel attacked Syrian territory three times early on Tuesday with jets and ground-to-ground missiles, causing damage, and that Syrian air defenses hit one of the planes; earlier, rebels say target of strike was arms depots.
Israel attacked Syrian territory three times early on Tuesday with jets and ground-to-ground missiles, Syria's army said in a statement carried by state television.

The army said Israeli jets fired missiles at the Al-Qutaifa area near Damascus from inside Lebanese airspace at 2:40 am, and that Syrian air defenses hit one of the planes.

Israel then fired ground-to-ground rockets from theGolan Heights, but the Syrian defenses brought the missiles down, the Syrian army said.

It said Israeli jets fired a final barrage of four rockets from inside Israel, and that the Syrian air defenses brought down one, but that the others caused material damage.

"At around 2:40 am, the Israeli air force fired a number of missiles over Lebanese territory at the Al-Qutayfah in the suburbs of the capital of Damascus. Our air defense systems responded and hit one of the planes," the Syrian army said.

The statement added that "two ground-to-ground missiles fired once again from the occupied Golan territory at 3:04 am were intercepted by our air defense system. At 4:15 am, the enemy fired four missiles from Tiberias, which were also intercepted by our air defense system. Some property was damaged as a result of the interception of one of the missiles near one of the military posts."

"This aggression," the Syrian army added, "is further proof that Israel supports the armed terror organizations in Syria, in their desperate attempt to raise their morale in light of their defeats in Harasta and Ghouta al-Sharqiya in the Damascus suburbs, alongside the Syrian army's crushing victories in Idlib.

"The Syrian army's general headquarters is warning Israel once again against the serious ramifications of such aggressive acts and sees Israel as fully responsible for its moves. We are prepared to deal with these attacks and we will continue our war against the terror organizations. We will cut off Israel's arms of terror and restore security and stability on all Syrian lands."

Observatory chief Rami Abdel Rahman said the missile strike targeted a military base near Kesweh, south of Damascus.

"An arms depot was destroyed," he said, adding that it was not immediately clear whether the warehouse was operated by the Syrian army, or its allies Iran or Lebanese militant group Hezbollah.

Ynet commentator Ron Ben-Yishai says the target of the strike was likely Hezbollah-bound precision-guided ground-to-ground missiles, which were being stored in one of the logistic compound's camps in Al-Qutaifa. It's possible there were launchers and anti-ship missiles there too. Hezbollah has been making an effort to obtain Russian-made precision-guided Yakhont missiles, both to prevent an attack from the sea and to threaten the gas drilling rigs. Yakhont missiles are also capable of targeting ships docking at the Haifa Port from Lebanon.

According to earlier reports from rebel and opposition groups on social media, the target of the attack was arms depots.

In early December, regime-affiliated media in Syria reported that the Israeli Air Force attacked a military scientific research center in the Jamraya area on the outskirts of Damascus.

According to Al Mayadeen, which is affiliated with Hezbollah, Israel fired six missiles, with three of them intercepted by Syria's aerial defense systems.

Several days earlier, Arab media reported Israel had attacked an Iranian military base in the al-Kiswah area, 15 kilometers southwest of Syrian capital Damascus.

AFP contributed to this report.