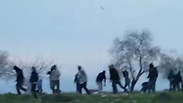 Footage of settlers throwing stones
A video surfaced Wednesday showing skirmishes between Palestinians and a group of settlers, in which the latter can be seen throwing stones at Palestinian homes in the West Bank following the funeral of Rabbi Raziel Shevah, who was murdered in a drive-by shooting attack on Tuesday near the outpost Havat Gilad.

According to the Palestinians, the settlers in the video, some of whom were masked, shattered windows of houses of the local residents in the town of Jit in Qalqilya near Kedumim .

Footage of settlers trowing stones at Palestinians after fatal terror attack against Rabbi

Dozens of Israelis marched to the Palestinian villages near Fara'ata and Jit where they began venting their anger over Shevah's murder by throwing stones and causing damage to some of the houses.


The IDF said that the violent incident was brought to an end after the crowds were dispersed awith the arrival at the scene of soldiers and local police. No one was injured during the clash.

Earlier in the day, hundreds of people accompanied Shevah as he was laid to rest. During the funeral procession Education Minister and Bayit Yehudi leader Naftali Bennett was interrupted in the middle of his eulogy by members of the Hilltop Youth with cries for "revenge."

They were silenced by the head of the Samaria Regional Council Yossi Dagan.

Raziel, who worked as a mohel (who performs the circumcision of babies) and volunteered in Magen David Adom (MDA), was murdered in a drive-by shooting near Havat Gilad. He is survived by his wife, Yael, and their six children: Renana, 10, Naomi, 8, Miriam, 6, Malka, 5, Ovadia, 3, and Benayahu, only 10 months old.