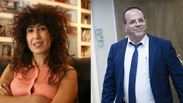 Hay Segev (L) Ayoob Kara
Photo: Eran Yuppy Cohen
TV council head accuses Communications Minister of harassment
Head of the Cable and Satellite Broadcasting Council claims she is a victim of web threats, harassment, encouraged by Communications Minister Kara, for following protocol and her refusal to issue news broadcasting permit to Likud-friendly Channel 20.
The head of the Cable and Satellite Broadcasting Council Dr. Yifat Ben Hay-Segev is claiming that her refusal to allow Channel 20 to broadcast news has lead to right wing activists harassing her and calling her the devil.

Communications Minister Ayoob Kara, frustrated that the laws do not allow him to curry favor with the Likud's favorite channel, is also among those threatening and harassing her, she said.

On Tuesday, Ben Hay submitted an official complaint to the Attorney General Avichai Mandelblit against Minister Kara charging that he is inciting against her.

In May 2017 Kara was appointed Communications Minister by Prime Minister Benjamin Netanyahu. Kara then proceeded to proclaim his commitment to Channel 20 and in a meeting with the directors of the channel he promised to arrange for a news broadcasting license.

During a follow up visit to the channel's offices, Kara was told that head of the Cable and Satellite Broadcasting Council is delaying the permit, thus hurting the channel.

Subsequently, Minister Kara reprimanded Dr. Yifat Ben Hay-Segev who explained that the channel had not fulfilled its basic obligations and she cannot legally issue them a license. The minister allegedly responded: "That does not interest me, make sure they will (be able to) broadcast news and stop abusing them."

Before convening to discuss the matter in December, the Cable and Satellite Broadcasting Council turned to the Attorney Meir Levin at the Attorney General's Office for a qualified opinion on the matter. Levin was reluctant to approve the license and Ben Chai forwarded the opinion to Minister Kara whose harsh response was not long in coming.

Dr. Ben Hay-Segev received an angry telephone call from Kara who said: "I am sick of you, you are a liar. How dare you consult with the Attorney General! You have no right to exist; I will dismiss the council, it will cease to exist," fumed Kara. This, according to the complaint submitted by Ben Chai to the Attorney General's office via her attorneys Eyal Cohen, Ofir Starshanov and Yaron London.

Ben Hay also claims she is a victim of incitement on social networks and Minister Kara himself encouraging the agitation by liking comments attacking her.

Ben Hay claims that Kara's actions may even be considered criminal as "his sentiments border on crude and dangerous incitement," wrote her lawyer. "The minister's threat's to dismiss the council and its head is a serious blow to the proper function of government. His actions are improper and he must be told that he must cease such behavior immediately. it may very well be that the minister's actions and words verge on the criminal. There must be a criminal investigation against the writers of posts which incite against her and the minister should be instructed to cease fanning the flames."

Minister Kara's office responded: "From day one the minister has been working to encourage competition, variety, free speech and equal opportunity for all… We have not yet been contacted by the Attorney General's office therefore it is difficult to respond at this point. That said, the minister never intended to cause harm to the Director of the Council Dr. Yifat Ben Hay-Segev nor to the council she heads."