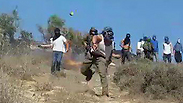 Violence by right-wing settlers
Photo: Zacharia Sadeh, Rabbis for Human Rights
A far right-wing Israeli political party has launched a new initiative aimed at filming Palestinian stone-throwers and rioters in the West Bank.
"We decided to help the IDF and the police catch the rioters who put us in danger on the roads every day," explained Tzvi Sukkot, the leader of the Otzma Yehudit party, whose new initiative will use drones and distribute vehicle cameras among its members in an effort to highlight the spike in the number of stone-throwing reports unpunished by security officials
Palestinian rioters
"A lot of cases that were opened about stone-throwers have been closed because the people responsible have never been found. We decided to launch a project through crowdfunding and we are asking the public for funding," he said.
Sukkot added that the party aims to cover the West Bank with a network of cameras and drones capable of capturing the identity of the stone-throwers, and marking their location."
Since the deadly terror attack in Havat Gilad, in which Rabbi Raziel Shevah was shot in a drive-by shooting, a string of violent incidents have erupted between settlers and Palestinians in the West Bank.
Nablus has become a central flashpoint for the clashes where, according to suspicions, the terrorists responsible for Shevah's death hailed.
The IDF Spokesperson's Unit claims that since the attack, 8 instances of stone-throwing have been recorded, all of which have been initiated by the right-wing Israeli activists in the West Bank.
Meanwhile, the IDF is continuing in its search for the terrorists behind Shevah's murder, with soldiers and security forces fanning out in Nablus and surrounding villages in pursuit of the killers.