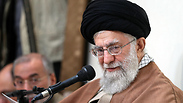 Ayatollah Ali Khamenei
Photo: AFP
Iran's supreme leader accused Saudi rulers on Tuesday of committing "treason" against Muslims by aligning themselves with the United States and Israel.

Addressing parliamentary representatives from Islamic countries gathered in Tehran, Ayatollah Ali Khamenei said the US decision to recognize Jerusalem as Israel's capital was "a big mistake" and "doomed to failure".

"Regional governments that are cooperating with the United States and the Zionist regime to fight against Muslims are certainly committing treason. That is what Saudi Arabia is doing," Khamenei said, according to his official website.

Iran, the leading Shiite Muslim power, and Sunni Muslim Saudi Arabia, a key US ally, are rivals for influence in the Middle East where they support opposing sides in Yemen, Syria, Iraq and Lebanon.

In the past year, foreign reports on covert Saudi relations with Israel have proliferated, alleging the two countries' converging interests in several areas, chiefly the threat posed to both by Iran.

Yedioth Ahronoth reported Tuesday morning, for instance, that talks were being held to allow Air India flights between Israel and India to fly over Saudi airspace to shorten the flight's duration.

President Donald Trump said on a visit to Jerusalem last year that shared concern about Iran was driving many Arab states closer to Israel.