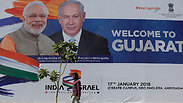 PM Modi and PM Netanyahu
Photo: AP
$500M Spike deal 'back on table' with India, says PM
Netanyahu makes announcement during trip to India about latest development in lucrative deal previously nixed by the country that would have seen its army purchase from Rafael Advanced Defense Systems 8,000 Spike missiles and 300 launchers; 'There's a process ahead, but we are going in a very good direction.'
Prime Minister Benjamin Netanyahu said Wednesday during his state visit to India that the Spike missiles deal is back on the table, after it was announced a few weeks ago that the deal, worth half a million dollars, was canceled.

"They are reauthorizing the Spike deal. We are going in a very positive direction," Netanyahu said during a press conference in India. "There is a process ahead. Before we came the deal was taken off the table and during this current visit we have returned it to the table."


Indian media first reported New Delhi's intentions to nix the $500 million deal with Rafael Advanced Defense Systems in November 2017 for would have seen the Indian army's acquisition of the Spike anti-tank guided missiles.

The lucrative deal was also regarded as further evidence of tightening Israeli ties with India and was supposed to be signed following a negotiation in 2016.

As part of the deal, the Indians were supposed to purchase some 8,000 Spike missiles and 300 launchers.

Rafael entered into a joint missile production project with the Indian-based Kalyani Group and the missile manufacturing facility, situated near Hyderabad, which was inaugurated this past August.

Earlier on Wednesday, Netanyahu and his wife Sara, along with Indian Prime Minister Narendra Modi, met with young Indian entrepreneurs in Gujarat who presented innovate projects in the framework of a special exhibition in his honor.

In Ahmedabad, a city inside the state of Gujarat, thousands of Indian citizens poured into the streets to greet the two leaders, waving Israeli and Indian flags and displaying hundreds of signs bearing Netanyahu's and Modi's face accompanied by the caption: "Welcome to Ahmedabad."




"I'm delighted to be here at iCreate. The world knows about iPod, they know about iPad, well there's one more 'I' that the world needs to know about—iCreate," the Israeli premier said during his visit to the iCreate Centre for Entrepreneurship and Technology, where 36 startups, 18 from Israel and India, that were chosen to participate in the "Bride to Innovation" plan aimed at finding joint responses to global water, agriculture and health challenges, exhibited their innovations.