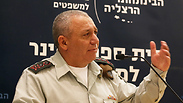 IDF Chief of Staff Gadi Eisenkot
Photo: Yariv Katz
IDF chief warns of possible calm before storm on northern frontier
At ceremony marking 21 years since helicopter crash near kibbutz Dafna which claimed lives of 73 IDF soldiers, Gadi Eisenkot warns Hezbollah terror group becoming increasingly 'powerful', accuses it of violating UN resolutions, but remains confident Israel will 'deliver a high and painful result to the enemy in wartime.'
IDF Chief of Staff Gadi Eisenkot warned Tuesday evening that despite the relative quiet on Israel's northern border, "many challenges" were awaiting the army stemming from the Hezbollah terror movement's increasingly "powerful capabilities."

Delivering remarks at a ceremony marking 21 years since a helicopter crash in Har VaGai High School near kibbutz Dafna which claimed the lives of 73 Israeli military personnel, Eisenkot accused Hezbollah of violating UN Security Council resolutions.

"We know that despite the quiet, many challenges are waiting. The Hezbollah terror organization is violating UN Security Council resolutions, it's preserving its military presence in the area, holds weapons systems and is becoming more powerful in its military capabilities," Eisenkot said.

The IDF, he stressed, is operating day and night to ensure its readiness and maintain it powers of deterrence.

Israel has warned in recent days against renewed efforts by Iran to establish a network of factories for manufacturing precision missiles intended for Hezbollah on Lebanese soil that would radically upgrade what are commonly known as "stupid missiles" by equipping them with sophisticated navigation mechanisms.

Jerusalem has also warned against the transfer of weapons capable of carrying heavy warheads that can inflict serious damage in future military confrontations.

"We will do everything required to protect Israel's northern border and ensure that it is safe and quiet," Eisenkot promised.

"Our challenge is to continue to preserve readiness, to deepen our knowledge about the enemy, to reduce their capabilities and to extend as much as possible the good security and civil reality that has endured for 11 years and serves the populations on both sides of the fence."

The chief of staff was convinced, he went on, of the IDF's "supremacy, in the quality of commanders and fighters and the abilities to achieve victory in wartime and to deliver a high and painful result to the enemy."

The Iranian influence on Israel's northern frontier has become a central focus of Jerusalem's diplomacy, with Prime Minister Benjamin Netanyahu warning Russia's President Vladimir Putin Monday that the IDF would not hesitate to attack Lebanon if necessary.

"I just finished in-depth and good talks with Russian President Vladimir Putin. I told him that Israel views two developments with utmost gravity: First is Iran's efforts to establish a military presence in Syria and second is Iran's attempt to manufacture—in Lebanon—precision weapons against the State of Israel," Netanyahu told journalists at the conclusion of the meeting in Moscow, the first since their last tête-à-tête in August 2017.

"I made it clear to him that we will not agree to either one of these developments and will act according to need," Netanyahu added.