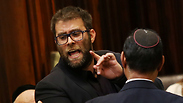 MK Oren Hazan
Photo: Alex Kolomoisky
The Knesset's Ethics Committee decided Wednesday to suspend Likud MK Oren Hazan from the Knesset for six months after five complaints have been submitted to the Ethics Committee against him by MKs from different parties.

The committee also deducted a week's pay from Hazan's salary.

While Hazan would still be able to vote at the Knesset, he will not be allowed to speak at the podium, submit parliamentary questions or propose bills.

Unrepentant, Hazan claimed to Ynet that he was being punished because he lashed out against Knesset Speaker Yuli Edelstein.

He further asserted he would not have been suspended from the Knesset "if I hadn't interrupted and exposed the true face of Edelstein, the supporter of terrorism."

The public spat between Hazan and Edelstein, both members of the ruling Likud party, began earlier this week, after Edelstein was heard in recordings published by Israel Radio criticizing Prime Minister Benjamin Netanyahu, and even claiming the prime minister has gone mad.

Hazan took to the podium on Monday, while Edelstein was presiding over the meeting, and criticized the Knesset speaker, demanding he apologized to Netanyahu.

On Wednesday, Hazan again lashed out against Edelstein and was removed from the plenum during a special meeting to mark 69 years to the Knesset's establishment.

When Edelstein invited Prime Minister Netanyahu to speak, Hazan interrupted by shouting "Maybe you should take advantage of this opportunity to apologize to the prime minister."

One of the complaints against Hazan was submitted following comments he made to MK Jamal Zahalka (Joint List) in the halls of the Knesset.

Another complaint was filed by MK Michal Biran (Zionist Union) after Hazan implied she was a prostitute during a Knesset Finance Committee meeting.

A third complaint was filed over an incident in which Hazan clucked like a chicken towards MK Ahmad Tibi (Joint List), who was presiding over the Knesset meeting.

A fourth complaint was filed after Hazan clashed with MK Abd Al Hakeem Haj Yahya (Joint List) during a discussion on a bill proposal allowing to delay the return of terrorists' bodies, where he called Haj Yahya "sewage."

"Edelstein and his marionettes in the Ethics Committee chose terrorism, this is the only meaning of this punishment," Hazan asserted in an interview with Ynet. "Edelstein, instead of suspending Ahmad Tibi, who associates with the worst among our enemies, who incites against IDF soldiers, who stands at the Damascus Gate and declares 'in blood and fire, we will redeem you Al-Aqsa' and sends criminals and terrorists to attack soldiers."

The Likud MK further lamented the fact that "just a week ago we saw the members of the Joint Hamasesque List going wild all over the plenum, embarrassing the State of Israel and its foreign policy while the American vice president is speaking at the Knesset. Where is their punishment? Where is the plenum meeting about them?

"But the one who stands up to and banishes from the Knesset the Marmara terrorist (Hanin) Zoabi, fights against the convicted terrorist Zahalka, and silences Tibi and the rest of his terrorist friends in the Knesset—he is being silenced."

He vowed to "continue preventing (Arab MKs) from disgracing us in front of the whole world and in front of the cameras. I will continue harassing them until they realize they don't belong in Israel's Knesset."

Hazan further asserted that "my mission in the Knesset is to silence those who want to hurt all of us. No one really thinks I'll shut my mouth."

He claimed to have received "numerous calls and messages of support, hugs online," adding, "Forget about the love inside the plenum. (People outside the Knesset) can't stop thanking me, and that thank you says something, people believe in this way."

Hazan also had a message to the Knesset speaker, "To the supporters of terrorism and the one who allows them to behave like this, Edelstein, be careful, because I will not be silenced."
Biran: 'I refused to apologize to Hazan'
MK Michal Biran (Zionist Union) who received a week's suspension from the Knesset on Tuesday, said she has "never seen him remain on topic in a Knesset discussion. I've never seen Oren Hazan in a discussion that didn't look like a reality TV show."
"I heard him clearly say that the Ethics Committee's makeup is radical leftist," Biran added. "Assuming the committee I faced was the same one that also sanctioned him, it was made up of committee chair (Yitzhak) Vaknin from Shas, Rachel Azaria from Kulanu, Shuli Mualem from Bayit Yehudi, and Maj. Gen. (res.) Eyal Ben-Reuven from the Zionist Union. Can you call such a makeup radical leftist?"
Biran explained she refused to apologize to Hazan for calling him a "pimp" because "when I call MK Oren Hazan a 'pimp,' it is not a derogatory term. The Ethics Committee disagreed, and I humbly accept that and understand how they see it. But as a public representative, my job is to stand by women who have been taken advantage of, whoever they may be."
She also noted she has been a member of Knesset for five years, and this was the first time a fellow MK filed a complaint against her.