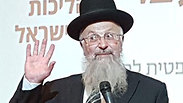 Rabbi Shmuel Eliyahu
Photo: Eli Mendelbaum
Safed rabbi: 'War brewing' over women enlistment in IDF
Rabbi Shmuel Eliyahu once against speaks harshly against women enlistment in IDF; 'Does the army belong to Lieberman? We should win this war. It won't end until Eisenkot resigns,' he says; dozens of rabbis holding public positions write a letter to the defense minister voicing their support of the three rabbis boycotted over their positions on coed service.
Safed Rabbi Shmuel Eliyahu said Wednesday a "war was brewing" on the issue of women's enlistment in the IDF. Defense Minister Avigdor Lieberman previously announced Eliyahu was barred from IDF events after he called on Chief of Staff Gadi Eisenkot to resign. Speaking at a conference on Jewish law, Eliyahu once again went after his quarry.

"The chief of staff is pulling the rope is far as it can go with us, and needs to realize that if you pull a rope too much it will eventually tear," Rabbi Eliyahu threatened. "You all heard the IDF spokesman, how he lied and distorted data strictly to market his own agenda.

"There's a war brewing here. We can—and should—win this war. At the end of the day, you have to realize our students are in our hands, not theirs. Even female students receive an education instructing them to make the necessary sacrifices at our institutions."

The Safed rabbi then impugned soldiers' conduct in a Jerusalem terrorist attack last year, as well as during the incident involving Palestinian teen provocateur Ahed Tamimi. "If soldiers in East Talpiot are running away from an attack, that's a warning sign. If they're scared when a girl slaps them, that's a warning sign."

"There are only two countries with mandatory army conscription laws for women on the books," Eliyahu further maintained. "They are Israel and North Korea. We don't have to be like North Korea."

Dozens of rabbis in public positions, including heads of pre-army preparatory programs, heads of hesder yeshivas and military rabbis, sent a letter to Defense Minister Lieberman protesting his decision to bar Eliyahu and two other rabbis from IDF events over their controversial positions, it was revealed during the conference.

"The rabbis are stating the position of Halakha (religious Jewish law—ed). We stand behind them as one," the letter said. "We therefore strongly protest your words against Rabbi Yitzhak Yosef, Rabbi Shlomo Aviner and Rabbi Shmuel Eliyahu."

"Rabbis have a duty to speak up and issue decrees in accordance with Halakha at least as much as any other public official has the right to speak their mind. The rabbis' duty to speak up and issue Halakha-based rulings are at the very heart of Judaism," the letter continued.

"We have been chosen to communicate the Halakha's positions to the public. Anyone not doing so is shirking their duty. We stand as one behind the rabbis who spoke their mind, and will not allow anyone to harm them," the letter concluded.

Eliyahu also personally targeted Defense Minister Lieberman in his diatribe. "Right now the IDF's ideal is full gender equality and that train is hurtling forward full speed ahead. Does the army belong to Lieberman's father? Where does he get the nerve? Are you going to gag us? We'll face that runaway train head-on," Eliyahu vowed.

The rabbi then addressed his audience, and asked them to "pick up the phone and call all of the Bayit Yehudi MKs. (Bayit Yehudi Chairman Naftali) Bennett called me impudent a second after I spoke up against female conscription. Call Bennett, (MK Eli) Ben-Dahan, (MK Moti) Yogev and everyone else. They won't be able to take it. It's war, and it won't end until Eisenkot leaves."

The conference's organizer Rabbi Rachamim Nisimi said, "The conference was not intended to give strength to Rabbi Eliyahu, but Rabbi Eliyahu came here and gave us strength. The people are with us and the media had better realize that."

Israeli women's NGO Na'amat Chairperson Galia Wolloch commented on Eliyahu's statements, and said, "There is indeed a war brewing—over the IDF and the State of Israel's values. A popular army will be one in which men serve alongside women, and those going against the public are those hard-line rabbis.

"Women's contribution to both the IDF and Israel much surpasses their own, and their contemptible words won't derail the continued integration of women into the IDF and Israeli society. Women can command a flight squadron, they can touch the sky and anything in between. There are and will continue to be female combat soldiers in the air, sea and on land."