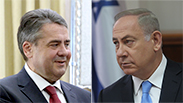 German Foreign Minister Gabriel (L) and PM Netanyahu
Photos: Marc Neiman/GPO, Alex Kolomoisky
PM Netanyahu vows to retain West Bank control in any peace deal
In joint press conference, PM Netanyahu interjects into statement by German Foreign Minister Sigmar Gabriel to say Israel will retain security control over Palestinian territories in any peace deal; Germany 'very much in favor' of two-state solution, Gabriel says; speaking elsewhere, German FM asks whether Israelis are 'prepared to pay the price of perpetual occupation.'
Prime Minister Benjamin Netanyahu on Wednesday said Israel will retain security control over the Palestinians as part of any future peace deal, deepening Palestinian fears that Israel and the administration of President Donald Trump are colluding on a proposal that will fall far short of their dreams of independence.

Netanyahu's statement exposed a deepening rift that has emerged between the US and Israel on one hand, and the Palestinians and the Europeans on the other, ahead of an expected peace push by the Trump administration. Those disagreements could complicate things for the US team.

Since taking office, President Trump has distanced himself somewhat from the two-state solution—the outcome favored by the international community, including Trump's predecessors, for the past two decades.

Instead, he has said he would support Palestinian independence only if Israel agrees. The European Union, meanwhile, along with the rest of the international community, remains committed to the two-state solution.

These differences were evident at a meeting Wednesday between Netanyahu and German Foreign Minister Sigmar Gabriel.

In an awkward exchange, Gabriel said his country is "very much in favor" of the two-state solution. "I was very thankful to hear that of course also the government of Israel wants to have two states, but (with secure) borders," he said.

Netanyahu broke in with a clarification. Israel's "first condition," he said, would be to control security west of the Jordan River, an area that includes all of the West Bank, the heartland of the Palestinians' hoped-for state.

"Whether or not it is defined as a state when we have the military control is another matter," he said. "I'd rather not discuss labels, but substance."

Nabil Abu Rdeneh, spokesman for Palestinian President Mahmoud Abbas, said the Palestinians would not accept the presence of "one Israeli soldier" on sovereign Palestinian lands.

"Either there will be full Palestinian sovereignty or there will be no security, no peace and no stability," he said.

The Palestinians have long been suspicious of Trump's Mideast team, led by his son-in-law Jared Kushner, due to their deep connections to Israel and years of support to the West Bank settlement movement.

Those suspicions deepened after Trump recognized Jerusalem as Israel's capital last month. The Palestinians accused Trump of siding with Israel and said they would no longer accept the US as a mediator.

Palestinian officials now claim that Trump's team is working with Israel on a plan that would give them a mini-state in roughly half of the West Bank, with Israel retaining overall security control, as well as control over Jerusalem and its holy sites.

Final borders and the fate of Israel's dozens of settlements would be decided later. The officials say a third country with close ties to the US recently presented details of the proposal.

When they tried to negotiate improvements, they say they were told it was a "take it or leave it" plan. The officials spoke on condition of anonymity because they were discussing a classified diplomatic issue.

The White House did not immediately respond to a request for comment. Officials have said recently that the White House is still working on its proposal, and have refused to say when it might be unveiled.

On Wednesday, European officials urged the administration not to go it alone.

"Any framework for negotiations must be multilateral and must involve all players," EU foreign policy chief Federica Mogherini said in Brussels. "Nothing without the United States, nothing with the United States alone."
German foreign minister: 'Are you prepared to pay the price of perpetual occupation?'
At an academic conference in Tel Aviv, Gabriel, the German foreign minister, expressed grave concern for Israel's future, saying the government's ambivalence toward a Palestinian state showed a lack of direction and suggesting that Trump's unflinching support wasn't necessarily in Israel's best interest.

Gabriel said that in Europe "there is clearly growing frustration with Israel's actions," and asked Israelis: "How do you want Israel's future to look like? Are you prepared to pay the price of perpetual occupation?"

Gabriel adopted a markedly different tone to that of US Vice President Mike Pence, who on a visit to Israel last week embraced President Donald Trump's December 6 announcement that his administration recognizes Jerusalem as the capital of Israel, and that it will move the US Embassy to the city.

"With regard to the Palestinians and the Iran question the Americans are taking your side more clearly than ever before. But is this really only a good thing?" Gabriel said in Tel Aviv.

Citing past successes of US diplomacy in the region, he asked: "Can the Americans still play such a role if they take sides so openly? Will others try to step into their shoes?"

In a thinly veiled threat about cutting off aid, he said some members of Israel's cabinet were "explicitly against the two-state solution" but that such a solution "has always been the foundation of our engagement for Israeli-Palestinian peace and for the large amount of funding" from Germany and Europe.

"These—at best mixed—signals do not go unnoticed in Europe, where there is clearly growing frustration with Israel's actions," he told an Israeli security conference. Gabriel cited disagreements even within his own Social Democratic Party about what some see as "unfair" treatment of the Palestinians.

"It is increasingly difficult for people like me to explain to them the reasons why our support for Israel must persist," he said. Gabriel pointed to concerns about violence, hatred and Israeli settlement-building.

"Germany is looking forward to the day when it will be able to move its embassy in Israel to Jerusalem. But let me add: in two states with Jerusalem as their capital. There is no shortcut here."

The Associated Press and Reuters contributed to this report.