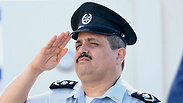 Police Commissioner Roni Alsheikh
Photo: Yoav Dudkevitch
Judicial officials dismisses police chief's allegations as 'rumors'
Alsheikh reportedly turned to the AG with suspicions 'powerful' elements were trying to collect information about police officers investigating the PM, but failed to provide concrete evidence to support his claims, according to judicial sources.
Judicial officials on Thursday evening dismissed as "rumors" the claims made by Police Commissioner Roni Alsheikh that "powerful" elements had tried to collect information about police officers investigating Prime Minister Benjamin Netanyahu.

"The commissioner turned to the attorney general about a year ago and reported this suspicion to him. The attorney general asked to receive evidence on this, (Alsheikh) didn't give him anything. These are just rumors," one official said.

Both Channel 10 and Channel 2 also reported on Thursday that the commissioner went to AG Avichai Mandelblit with what his officers suspected, but failed to provide any concrete information to support his claims.

However, Channel 10 also reported that a European official with close ties to Netanyahu was conducting digital surveillance of the police officers investigating the prime minister from several countries in Europe.

According to the report by journalist Doron Herman, a very senior police source told the channel that the private investigators' main target was the commander of the Anti Fraud Unit, Koresh Barnor. The private investigations also allegedly tried to gather information on more junior police investigators.

The alleged digital surveillance of the police officers only stopped in January 2017, when Alsheikh first publicly spoke about it.

While Netanyahu reportedly didn't know about this surveillance, "this is the intelligence accumulated by the investigators. This is what's likely behind the scenes of (Alsheikh's) remarks yesterday in Uvda."

In an interview with the Uvda TV show aired Wednesday, Alsheikh said that "at the end of the day, we know who these elements are, and someone apparently has to pay them. So it really bothered us."

"I felt an investigator shouldn't be subject to external pressure through his family. So I responded publicly, and it stopped. I'm talking about facts, not rumors. That's why I went public. I thought it would be enough to say it was unacceptable, and it stopped," he added.

The interview and the commissioner's claims led Prime Minister Netanyahu to launch a harsh attack against Alsheikh, posting on Facebook: "It's shocking to discover that the police commissioner is repeating the delusional and false insinuation that the prime minister sent private investigators against police officers who are investigating him."

"Every decent person should ask himself how people who say such delusional things about the prime minister are capable of objectively investigating him and making an unbiased recommendation about him?" he added.