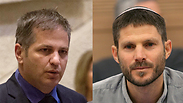 MKs Kisch (L) and Smotrich
Photo: Alex Kolomoisky
The Likud's contentious and volatile annexation bill is expected to pass by a large majority on the party's Central Committee, but Prime Minister Benjamin Netanyahu is reluctant to bring it to a vote as he is worried it might upset US President Donald Trump—who he promised to "hold off" on construction and annexation of settlements.

The bill, sponsored by MKs Yoav Kisch (Likud) and Bezalel Smotrich (Bayit Yehudi), will allow the de-facto annexation of settlements in the West Bank.

Netanyahu has the final say on the committee's agenda and thus can effectively torpedo the bill. This, according to senior officials, is exactly his current course of action.

MKs Kisch and Smotrich have already received messages from Netanyahu's associates and the Prime Minister's Office calling on them to postpone the vote, but MK Kisch said he would not give in to pressure.

"I am determined to bring the proposal to a vote," he said, "because this is the most appropriate time to do so."

The Bayit Yehudi party also said Thursday that they are determined to bring the bill to a discussion and vote at the beginning of the week.

"We welcome the Likud Central Committee approval of the proposal (which took place—ed) several weeks and we look forward to Sunday to translate this into deeds," the party said in a statement.

"Like when the Begin government enacted Israeli law over the Golan Heights in 1981, so too should the current government make the required Zionist decision."