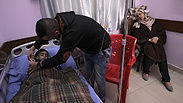 UAE, Qatar donate funds to stave off Gaza health crisis
$2 million from United Arab Emirates and $9 million from Qatar will pay for fuel for for generators that keep Gaza's hospitals and sanitation services operating; US envoy Greenblatt calls on Israel, Qatar to cooperate in order to 'bring real relief to the people of Gaza.'
The United Arab Emirates has donated $2 million and Qatar has pledged another $9 million to the Hamas-controlled Gaza Strip, staving off a threatened shut-down of emergency hospital generators in the impoverished Palestinian enclave, officials said on Friday.

The United Nations had appealed for funds on Tuesday, saying fuel for generators that keep Gaza's hospitals and sanitation services operating would run out within 10 days as Hamas and the West Bank-based Palestinian Authority (PA) feud.

The World Health organization announced the UAE donation in a statement, saying it would "provide enough fuel to keep facilities running for several months". Qatar's pledge was announced on its Foreign Ministry website.


US envoy to the Middle East Jason Greenblatt called on Israel to cooperate with Qatar to help ease the suffering in the Gaza Strip.

"Qatar partnering with Israel can bring real relief to the people of Gaza. Ending support for Hamas and focusing on humanitarian aid and reconstruction will end the suffering," he wrote on Twitter on Friday.

So far, generators have stopped at three of Gaza's 13 hospitals and 14 of its 54 medical centers, according to the enclave's health ministry.

The Islamist group Hamas and PA signed an Egyptian-mediated unity deal in October by which Hamas quit administrative control of the territory, but the two sides have failed to finalize the details of political power-sharing.

Hamas leader Ismail Haniyeh left Gaza on Friday for a fresh round of talks with Egyptian officials in Cairo over ways to salvage the reconciliation, the group's spokesman said.

Gaza's neighbors, Egypt and Israel, have long clamped down on its borders, a blockade they say is needed for security.

A US decision to cut aid to the United Nations Relief and Welfare Agency (UNRWA), which provides aid to Palestinian refugees, also threatens to deepen hardship in Gaza.

Hamas hopes its new partnership with the PA will lead to an easing of sanctions, but the sides disagree over power-sharing.

Poverty has exacerbated political militancy in Gaza, where Palestinians have held weekly rock-throwing protests at the border fence with Israel against US President Donald Trump's December 6 recognition of Jerusalem as its capital.

During Friday's demonstrations, Israeli troops on the frontier wounded 19 Palestinians with live fire, medics said. A military spokeswoman said shots were directed at "rioters .. Who posed a threat to soldiers and the security fence."

A further seven protesters were wounded by Israeli troops in the West Bank, another territory where Palestinians seek statehood, medics said. The IDF did not immediately comment on the West Bank incidents.