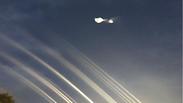 Contrails of intercepted Syrian missiles in Israel, Saturday
Photo: Assaf Porat
The Iranian game of chess: More moves are on the way
Op-ed: Iran and Israel have been fighting each other for years. It's a cruel war, but one rule has been strictly observed: Avoiding an open, direct conflict. Iran has been attacking through proxies, while Israel has preferred covert activity. On Saturday, for the first time, this barrier was broken on both sides.
The Iranian UAV's infiltration of Israeli territory may have been the result of an operational malfunction: The person on duty at the Palmyra airport fell asleep with his finger on the navigation stick. It's more likely to assume, however, that it was intentional.

It's no coincidence that the Iranians invented the game of chess. Recently, they have been playing a complicated game against Israel, across the Syrian and Lebanese arena. Up until Saturday, they were on the defensive. On Saturday, they launched an attack, sacrificed a pawn and took one of our rooks. Additional moves are on the way.

Iran and Israel have been fighting each other for years. It's a cruel war, in which the Iranians haven't hesitated to kill innocent civilians, Israelis and Jews. One rule has been strictly observed: Avoiding an open, direct conflict. Iran has been attacking through proxies, the most deadly one being Hezbollah. Israel has preferred covert activity, under the radar. On Saturday, for the first time, this barrier was broken. It was broken on both sides. This is a milestone.

The second milestone is the downing of the F-16 fighter jet in Israeli airspace. This is the first time an Israel Air Force plane has been shot down since 1982. The IDF made an effort to calm everyone down: The fact that one plane was hit doesn't point to the loss of Israeli air supremacy.

Nevertheless, after learning that the Syrian army's antiaircraft system is capable of downing a plane flying in the Galilee skies, Israelis do have a cause for concern. Moreover, the downing raises questions concerning the Air Force's freedom of action when it comes to hitting targets in Syria and Lebanon. Since the Syrian civil war was decided, the rules of the games have been changing, on the ground and in the air.

Earlier this month, I participated in a series of conversations and tours with senior IDF officers, focusing on the battle in the north. I named the column I published following these talks "The first northern war." I'm not the one who came up with this phrase. It was invented by a division commander in the area.

The goal of the conversations, I wrote, was "to prepare decision makers in the world and the public opinion in Israel for the possibility of a war, not an initiated one but a developing one, while indirectly making it clear to the Iranians that Israel is undeterred by a military conflict."

The IDF doesn't want a war, and neither does the political echelon. The warnings were aimed at preventing a war, not at creating one. The assumption was that if Russian President Vladimir Putin realized that a war could break out in the north, making it difficult for him to stabilize Syria and undermining his position as a supreme arbitrator between the region's countries, he would make sure to stop the Iranians. That didn't happen. Prime Minister Benjamin Netanyahu's huge effort to conquer Putin's heart was in vain.

Putin knows how to shower endearments on Israeli prime ministers, giving them the feeling that he admires them and their country. They boast their ties with him to their voters. He is no friend. In a conversation with one of Netanyahu's predecessors, Putin said candidly: I operate solely according to Russia's interests as I understand them.

At the moment, Russia's interest is to preserve its alliance with Iran, rather than get directly involved in a war. The military coordination with Israel is aimed at serving these two goals. The coordination with Israel is a tactic; the alliance with Iran is a strategy. Israel can't rely on Putin's good intentions. It must find a way to make him take action.

Netanyahu believed he would be able to enlist the American administration to curb Iran's entrenchment efforts in Syria. US President Donald Trump, as we know, is much friendlier to Israel than Putin. Perhaps he'll rescue us. Unfortunately, this move failed utterly too: The Trump administration isn't interested in real involvement in determining Syria's future. It is concentrating its efforts in the east, on the Iraqi border. On our front, we have no one to rely on but ourselves.

This big question is who will make the next move in this game of chess, when and how. The apparent scenario is the organization of another Hezbollah convoy to transfer precision-guided missiles, or components of such missiles, from Syria to Lebanon. Israel will have to decide whether to ignore it and risk losing its deterrence, or attack and risk sparking a war.

Up until now, the IDF has been careful not to set red lines. Setting a red line turns you into its hostage. Israel's ministers have not been as careful. Saying that Israel will act against an Iranian entrenchment in Syria and Lebanon is one thing; saying that Israel won't allow it is another thing.

Most wars in the Middle East were the result of an unintentional development, a game of chicken that went wrong, an overly successful act of terror, public pressure on the political echelon. None of the players is interested in a war right now—neither in Israel nor in Lebanon, Syria or, according to Israeli assessments, even Iran.

Israelis see a war as something so unnecessary, so delusional, that on Saturday, during a dramatic day in the north, 100,000 people visited the nature reserves and 25,000 visited Mount Hermon. The IDF was happy, seeing it as a sign of Israelis' faith in their defense system. But the reason may actually be lack of faith: Israelis don't believe their leaders' warlike rhetoric. They refuse to panic over something they can't change.

The state should therefore go on as planned: The General Staff should keep monitoring the Iranians' activity, and the police should keep working on corruption investigations. The IDF should submit its recommendations, and the police should submit their own recommendations. Please don't mix one thing with another.