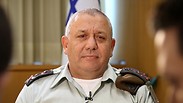 IDF Chief of Staff Eisenkot
Photo: Avi Moalem
Looking back at Eisenkot's three years as IDF chief
Analysis: It is still too early to assess Eisenkot's performance as IDF Chief of Staff; the real test is how well the army he leads performs on the battlefield; However, it can still be said that Eisenkot is an exceptional military leader owing to the impressive amount of objectives, which he set for himself at the start of his term, which were fulfilled.
In the shadow of the latest events in the north, Lieutenant General Gadi Eisenkot is completing his three year term as army Chief of Staff. However, as is often the case, Defense Minister Avigdor Lieberman extended his term an additional year. Eisenkot announced though that he will complete his service at the close of 2018, and not wait until February, 2019.

Eisenkot believes that his replacement should begin his term on the first day of the calendar and IDF fiscal year.

Nobody knows what the coming ten months holds for the Mideast, a place where any miscalculation can ignite a war. It is still too early to assess Eisenkot's performance as IDF Chief of Staff; the real test is how well the army he leads performs on the battlefield.

However, it can still be said that Eisenkot is an exceptional military leader owing to the impressive amount of objectives, which he set for himself at the start of his term, which were fulfilled; not only in military preparedness, reorganization and manpower efficiency measures, but in terms of operations.

Almost any military objective that comes to fruition is built upon the efforts and risk-taking of commanders and defense ministers who preceded him. Nevertheless, such an impressive array of achievements under one Chief of Staff says something about his leadership.
Tunnels outsmarted; Sophisticated weaponry transfers thwarted
At the start of his term, Eisenkot prioritized thwarting Hamas terror and smuggling tunnels. Today, three years later, it seems the IDF has succeeded to a large extent. Tunnels dug under Israel are being uncovered one after the other.

Eisenkot did not invent the solution, but he knew how to manage the matter and devote the necessary resources to achieve the goal.

Another accomplishment is the fact that Hezbollah, Hamas and Islamic Jihad still lack precise missile technology which can pose a significant danger to Israel; this, despite the fact that Iran invested a lot of effort in order to arm their proxies with such weapons.

During the tenure of the previous Chief of Staff Benny Gantz, the IDF also carried out dozens (or perhaps hundreds) of covert missions during times of relative quiet to thwart the transfer of precise rocket technology to Syria, Lebanon or Gaza. Then however, the Russians were not present and Israel's freedom of movement was absolute without worrying about getting into a conflict with a superpower.

Iran too, had not yet tried to build weapons factories in Lebanon and Syria to improve its proxy's arsenals, nor did it try to set up air, sea and land bases in Syria.

Without getting into exact details how, Eisenkot increased the IDF's capabilities and with stealth it kept Iran from establishing itself in Syria. Moreover, the Syrians have lost half of their anti-aircraft batteries and during IAF raids, dozens of enemy combatants have been killed or wounded.

All this was done quietly, without Israel taking responsibility and often without the knowledge of local and world media.

Last Saturday's incident was only a slight revelation of the clandestine battle the IDF has been operating which is successful in creating military deterrence without getting drawn into an escalation or war.

While in Israel, people are occupied with the fighter jet that was downed by Syrian fire, on the other side of the border, conclusions are being drawn regarding the intelligence capabilities and precise destructive firepower of the IDF.

Throughout his career, Eisenkot always attributed a lot of importance to the war of consciousness—a campaign with moral, legal, diplomatic and other elements, which is conducted not only to undermine the enemy's "soft power" components but also to bolster the national strength of Israeli society and the legitimacy that Israel and the IDF receive from the international community. On that note, he has dedicated resources of the Operations Branch for psychological warfare, public diplomacy and social networking activities.
Saving millions by shrinking officers and reserves corps
Under Eisenkot, the IDF undertook a reorganization which expressed a clear preference for advanced weaponry, armor and computerization for the forward infantry, Intelligence, Air Force and Cyber warfare units. The shrinking of the military's officer corps and reserves units saved hundreds of millions of shekels that were diverted to more efficient uses.

Manpower operations are one of the most challenging aspects for the army and the department is dealing with initiatives to shorten the length of service and annual reserves duty days. These challenges will require Head of the Manpower Directorate Major General Mordechai (Moti) Almoz to develop a new strategy to tackle them.

"I would rather have a general who was lucky than one who was good," said Napoleon Bonaparte. On that note too Eisenkot has had success. Under both recent defense ministers, Moshe Ya'alon and Avigdor Lieberman, he has succeeded in gaining their trust and was given free rein in running his sphere.

Ya'alon granted Eisenkot five years of quiet on the budget front. The multi-year plan he implemented is still in place and being applied. Eisenkot has been able to attain a high level of readiness as ammunition and spare parts stores are full and the field units are training more than they have been for more than a decade. Units have returned to the pattern of 17 weeks of training followed by 17 weeks of operational deployment.
Despite differences, government remains cooperative
Defense Minister Lieberman, who was a mere quartermaster during his service, has not only backed Eisenkot completely, but contributed quite a lot in matters that others did not devote enough attention to; namely, the matter of missile warfare and precise naval armaments.

What former Defense Minister Amir Peretz has achieved in the field of active missile defense (the Iron Dome), Lieberman is doing today in the field of offensive warfare, and may even get a 'missile corps' like he was hoping.

Eisenkot enjoys cooperation with the politicians despite a 2010 letter opposing a strike in Iran, which Netanyahu and Ehud Barak were aiming for. His moral worldview, especially in the case of Elor Azaria, is also opposed to that of Lieberman's. Politicians have also fully adopted Eisenkot's IDF strategy doctrine where he lays out what he expects of the political echelon during a war.

Oftentimes during his tenure, Eisenkot has expressed operational ideas or set standards that fall between the lines of civil society and the army, contrary to the worldview of the present coalition; From the operational conception that separates the fight against terrorism from the effort to maintain a normal routine and earn a livelihood among the uninvolved Palestinian population, to the IDF effort, led by the Coordinator of Government Activities in the Territories, to prevent a humanitarian disaster in Gaza; to the unyielding approach, in the face of widespread public opinion, in the Elor Azaria affair, as well as a smart and efficient integration of women in as many as possible IDF units.

Politicians, and even the more zealous national religious rabbis, continue to maintain respectful dialogue with Eisenkot, and at times even accept his views, probably due to his lack of ego and the recognition that the only thing standing before his eyes is national security. Also important is the sentiment that he refrains from any manipulative and political maneuvers nor does he ask of anything for himself, now or for his political future.