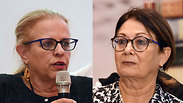 Gerstel (L) and Hayut
Photo: Yair Sagi
Chief justice confirms attempted bribery in Case 1270
Esther Hayut tells police former District Court Judge Hila Gerstel confided in her that during her candidacy for the post of state attorney, a PM associate approached her indirectly to offer the position on condition that she close a case against Sara Netanyahu; 'Gerstel expressed shock to the president about the incident.'
Supreme Court Chief Justice Esther Hayut confirmed for police Tuesday that she had been told by the former District Court president judge Hila Gerstel that the latter had been approached by a close associate of Prime Minister Benjamin Netanyahu to bribe her into tossing out an investigation against his wife, Sara Netanyahu.

Although she did not report to the authorities, Gerstel reportedly shared what had happened with Hayut, who served as a regular judge at the time.


In Hayut's testimony in the latest corruption probe—Case 1270—involving alleged attempts on Netanyahu's behalf to dangle a promotion over Gerstel's head in exchange for her cooperation, she alleged that Gerstel had been indirectly approached on the matter.

"The chief justice confirmed that her friend Hila Gerstel, who was a candidate in 2015 for the position of state attorney, told her retrospectively and after her candidacy was no longer relevant, that someone close to the

prime minister spoke to her friend during the time of her candidacy, and asked her to clarify her position regarding the investigation into the prime minister's wife," a statement read on Hayut's behalf.

"Gerstel expressed shock to the president about the incident, but she added that she could not elaborate beyond that and that she could not tell her who the people were, the statement continued.

"Due to the limited details and the vague story that Gerstel chose to tell her, the chief justice did not possess in her hands any kind of base with which to take further steps."

Earlier, Kamir said "I only looked into the possibility of her promotion" but he denied that there was any correlation between that and the closure of the investigation about Sara Netanyahu in what became known as the Prime Minister's Residence Affair.