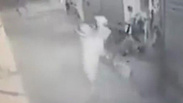 Image from security camera
A preliminary autopsy report Friday showed that Yassin Omar al-Saradih, a Palestinian who was killed early Thursday after charging at an IDF force in the West Bank city of Jericho, died as a result of a bullet to the abdomen.

The report also noted that relatively minor signs of beating were present on al-Saradih's body, but ruled them out as a cause of his death.

The Palestinian agency for prisoners said al-Saradih "was killed by a bullet fired from point-blank range that struck him in the lower abdomen, causing internal bleeding, and that the bullet exited through his back."

Footage circulated by Palestinians in Jericho

It quoted Palestinian physician Rayyan Al-Ali, who observed the Israeli autopsy, carried out by the Institute of Forensic Medicine.

Palestinians say he was severely beaten in custody. Issa Qaraqea, head of the prisoners' agency, described the death as "an ugly war crime."

The incident, which took place during IDF operational activity in Jericho, was captured on CCTV and showed several soldiers kicking and beating the al-Saradih with rifles while he is on the ground.

The soldiers who were involved in the incident are expected to be questioned on Sunday.

Earlier that day, the military Criminal Investigation Division (CID) launched a probe into the possibility that al-Saradih's death was caused by accidental inhalation of gas during a riot.

According to the initial investigation, while troops were operating in Jericho, some 50 Palestinians began rioting by throwing rocks, rolling burning tires and hurling Molotov cocktails at the soldiers.

During the violence, al-Saradih ran toward the soldiers brandishing an iron rod, leading them to open fire on him.

The IDF said that "in response to the threat, soldiers fired toward him but he was most likely not hit." Soldiers then "used force in order to subdue the suspect," the statement added.

It said the man had a knife on him and had tried to grab a soldier's weapon. The statement added that a medic examined the detainee at the time and assessed his condition to be "normal."

The army statement added that the Palestinian's condition deteriorated when he was later exposed to tear gas fired by soldiers trying to disperse Palestinian protesters. The man was later identified as a 33-year-old Jericho man who, according to relatives, did not suffer from health problems.

Rotem Elizera, Elior Levy, Yoav Zitun, the Associated Press and Reuters contributed to this report.