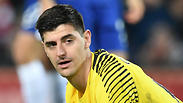 Thibaut Courtois
Photo: AFP
Chelsea goalkeeper: Holocaust survivors' stories must be shared with more people
When the English Premier League club launched a campaign to tackle anti-Semitism, Thibaut Courtois already knew a lot about the Holocaust from history lessons in Belgium, yet nothing prepared him for the players' meeting with an avid fan who survived the Nazis; 'The thought of locking people up in a ghetto or a concentration camp here in Europe, not many years ago, is unbelievable,' he tells Yedioth Ahronoth in an exclusive interview.
LONDON—Thibaut Courtois believes Beitar Jerusalem and Bnei Sakhnin fans should learn from the fans of Atletico Madrid and Barcelona. When he hears Sakhnin fans were banned from the Teddy Stadium during a match against Beitar for fear of violence based on hatred and racism between the teams' supporters, he is outraged.

"I've heard of cases in which fans of a certain team were not allowed to attend a game against another team," he tells Yedioth Ahronoth in an exclusive interview. "Football fans feel they can chant racist remarks or be violent, because anything goes in a football stadium. In Belgium and Russia, you see fans fighting over things unrelated to the game, just because they need to vent.

"I don't understand why you can't cheer for your team without racist chants. When I played for Atletico Madrid against Barcelona, there was a pleasant atmosphere in the stadium of teams playing together. The games were better thanks to that atmosphere. Even when I was with Chelsea, in the 17th place in the league, rival fans would chant 'You're going down,' and we would accept those songs, as long as they didn't cross the line."

Recently, Courtois became the prominent spokesperson for a campaign to tackle anti-Semitism launched by the elite English club he plays on. Chelsea is the first team in the world to launch a multi-annual, high-budget campaign against anti-Semitism on—and off—the football fields.

"To us, the campaign is part of a bigger and more comprehensive fight against discrimination," says Bruce Buck, the club's chairman. "When Roman Abramovich bought Chelsea, he wanted the team to win championships and cups, but he also wanted it to contribute to the community.

"One of our projects in recent years has been about fighting against discrimination based on religion, race, skin color and sexual preference. But there has recently been an increase in anti-Semitic incidents around the world, which is evident in France, the United States and here in Britain too. So we came up with the idea of launching a specific campaign against anti-Semitism, which goes beyond one game or a specific one-time activity. We want to promote the project for a long time."

The campaign was officially kicked off in a recent home game between Chelsea and Bournemouth at Stamford Bridge stadium, just in time for the release of Britain's annual anti-Semitism report the following day.

According to the report, the number of anti-Semitic incidents hit a new record high for the third year in a row—it's just the excuses that change: While three years ago it was Operation Protective Edge that led to an increase in the number of incidents, last year it was the separatist and racist atmosphere that swept over Britain following the decision to pull out of the European Union and the rise in anti-Semitic attitudes in the Labour Party.

"Football has a great impact, especially in Britain," says Buck. "We decided to harness that impact for an important goal."

Jewish billionaire Roman Abramovich, the Chelsea Football Club owner, said recently that his team actively celebrates cultural and religious diversity and delivers programs to promote equality and tackle discrimination.

"However, we are all too often reminded there is more to be done. The world has just observed Holocaust Memorial Day. The Holocaust was a crime without parallel in history, and I am proud to launch an initiative to raise awareness of and to tackle anti-Semitism in all its forms. This is the start of an important journey and we all have a part to play."

Club officials stress the campaign wasn't born as a result of the rise in anti-Semitic incidents at the stadiums. "There are actually fewer incidents today than, for example, in the 1980s," says Buck.

I remind him of the game between Chelsea and Paris Saint-Germain three years ago, when English fans chanted racist comments against black people at a Paris metro station and prevented a black man from getting on the train.

"We tracked down those fans and suspended them for a long time," he says. "We got the police involved and cooperated with the investigation. We have a closed-circuit television system at the stadium. We have better control than in the past."

That wasn't the only incident. Chelsea has been involved in a number of serious racist incidents in recent years. Team player Robert Kenedy, for example, made headlines after posting offensive messages against Chinese people on social media. In other incidents, the team's supporters chanted racist slogans against players of rival teams. In this sense, the campaign against anti-Semitism has definitely arrived at a good time.
When Harry met Chelsea
In preparation for the campaign, and shortly before launching it, Chelsea's players met with Harry Spiro, an 88-year-old Holocaust survivor living in Britain. Spiro, an avid fan of the club, visited Chelsea's training facility and shared his personal story with the players. They appeared shocked and found it difficult to speak after the encounter. Their poor performance against Norwich the night before suddenly seemed insignificant.
"Harry's experience was shattering," says Courtois. "It's inconceivable, leaving your family behind and never seeing them again. The thought of locking people up in a ghetto or a concentration camp here, in Europe, not many years ago, is unbelievable.
"When I met Harry, I knew more or less what he had gone through, because I studied about it in history classes. But you don't really understand things until you listen to the testimony of someone who was there. I was shocked by his testimony, and I wasn't the only one.
"I want other people to hear testimonies from Holocaust survivors. These people are dying, and I'm concerned that the memory of the Holocaust will fade away and be forgotten. It's important to pass these stories on to the next generations, so that they learn from them and gain inspiration."
How close were you to the issue of anti-Semitism before the campaign?
"I grew up in Belgium, and they taught us in school about the World War and about anti-Semitism and the Holocaust. My grandfather's father fought during World War II in the Belgian resistance against the Nazis, and my grandfather told us about his father. I remember finding it difficult to understand how the Germans entered Belgium with tanks.
"I think that in Belgium there is an emphasis on Holocaust studies, especially compared to countries like Spain, which lived under a dictatorship of their own during World War II. So I learned quite a lot about the Holocaust, although I didn't have any Jewish friends. Only later, when I played in the Genk club and met (Israeli footballer) Elyaniv Barda, he told me about the history of Israel and the Jewish people.
"The Chelsea campaign is important because the team has an international appeal and it can have an impact outside England too, in countries like Belgium, where there are neo-Nazi groups that should be outlawed."
How does it feel when you're on the pitch and fans chant racist remarks against black players, for example?
"It's hard for me to say, because I've never experienced racist chants, especially as I'm focused on the game and don't hear the chants. But there have been racist incidents before, which I only learned about the next day from the newspaper. There have been chants like 'ape's nose' against black players like (N'Golo) Kanté, and when I found out I thought it was awful.
"There are fans who think anything goes in football fields, and there are those who even chant racist remarks against players of the team they support. The chants directed at a player's religion or skin color must be left out. The stadiums have to be cleared of these chants, because what happens there quickly spreads to the other parts of society.
"Sometimes, I see a child in the crowd shouting ugly things while standing next to his father, but the father doesn't say anything. You understand? It all begins with education."