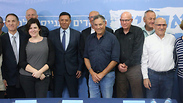 Labor party Chairman Gabbay with the new additions
Photo: Motti Kimchi
Dozens of former senior defense establishment officials join Labor party
Retired IDF, defense establishment senior officials join Labor party, announce their support of Chairman Avi Gabbay; 'We have decided to join the fight for the country's future'; Gabbay: 'We will ensure the IDF being not only the strongest but also the most moral of armies.'
Thirty-three former senior IDF and defense establishment figures announced Tuesday afternoon they have joined the Labor party as part of the "Turnover for Israel" group headed by Brig.-Gen. (res.) Assaf Agmon.

In a conference held at Beit Sokolov in Tel Aviv, the former commanders stood shoulder to shoulder with party chairman Avi Gabbay, and said, "Today we're standing at the ready on Israel's most important front. We're leading commanders and civilians from different sectors in a joint effort to present Israel with inclusive, moral and experienced leadership."

Brig.-Gen. Agmon himself said, "After many years of serving the country in areas related to defense, we have decided to join the fight for its future and defend the rule of law and the ethicality we all share.

"Israel's people deserve worthy and honest public officials who see and serve the citizens—rather than themselves.

"We have had our fill of elected officials who have forgotten they must care for everyone—Holocaust survivors, the disabled, people with special needs and the weak."

Col. (res.) Dror Aloni, a former commander of the Navy's training camp, said that he "believed Israel was in need of a significant change in leadership and in the manner in which it is led."

"I have served for 23 years as commander and have planned and presided over multiple operations. I was party to defense work in the most sensitive of areas," he added. "We now wish to strengthen the Labor party and the man heading it in order to return Israel to its status as an exemplary country both in governance and in being a national home for all Jews around the world."

Among the commanders who have joined the Labor party along with Agmon and Aloni are Brig.-Gen. Giora Inbar, former commander of the elite Shaldag Unit, Maj.-Gen. Alik Ron, former commander of the police's northern district, and Dr. Avi Weinreb, one of the developers of the Iron Dome system.

Party Chairman Gabbay welcomed the new additions to his party and said, "In such a security reality, a prime minister cannot afford to neglect dealing with such matters, while instead he busies himself with legal consultations with his lawyers on corruption, bribery and breach of trust investigations.

"We must not only prevent the next war, but also seek out political opportunities to increase our security.

"We will carry on and ensure the IDF being not only the strongest but also the most moral of armies. In that regard, we must act to defend the IDF from attacks from within.

"We've seen extremely dangerous escalation in statements by rabbis against the chief of staff and integrating women into army service. We now call on hard-line rabbis to recant their deplorable utterances and stop interfering with the army. It's not too late. Return to your role uniting the Israeli people."