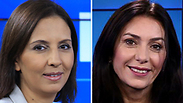 Gila Gamliel (L) and Miri Regev
Photos: Ofer Amram, Yaron Brener
Culture and Sports Minister Miri Regev's direct attack on Israel's gatekeepers was met with criticism from a fellow government minister Monday.

In an interview to the Ynet studio, Minister Gila Gamliel referred to Regev's comparison of the gatekeepers to Bigthan and Teresh from the Book of Esther, who were hung in punishment for plotting to kill the king, as "an unfortunate comparison."

Regev, who is filling in for Prime Minister Benjamin Netanyahu during his trip to the United States, made the controversial comment during a Purim event on Saturday night dubbed "Miri's Banquet."

"We are chosen by the people, but there are advisors and officials who are used to deciding what is right and not right, they are called the gatekeepers," she said.

"In the Book of Esther there were also gatekeepers, Bigthan and Teresh, a perfect match. They look stately, maintain the rule of law, ensured there was proper conduct, but it turned out that the moment they didn't identify with the king and didn't agree with his management of the kingdom, all that disappeared, their stateliness disappeared as if it never existed, the rule of law became less critical."

But Regev rejected criticism on Sunday morning, insisting that her words had been "twisted."

"Indeed, I used motifs from the Megila (Book of Esther). In light of the recent cases of improper conduct between the judge and the investigator, I stood up for the fundamental tenet of democracy—that the people are the sovereign and for the need for gatekeepers to conduct themselves democratically and in accordance with the rules of proper administration."

"I didn't participate in that celebration, in the banquet," Gamliel said Monday. "I spent Purim with my daughters and my family, with our extended family. I decided at the beginning of my term not to engage in name-calling."

Gamliel, the minister for social equality, went on to address the fact that only a single woman thus far has been awarded the 2018 Israel Prize, out of a total of 11 laureates. "That isn't a sufficient representation of 52 percent of the population," she said. "We are about to mark International Women's Day, and I would expect to see many female Israel Prize laureates. Unfortunately, that isn't happening."

As for the coalition crisis and the possibility of early elections, Gamliel said: "There's no doubt that finding a solution for the draft law within a week is unrealistic and unfeasible. If they want to reach solutions from a good place, they will have to try to reach a solution in which progress will be made in the first stage and the rest of the discourse will take place only after the state budget is approved. It will be impossible to pass the draft law in three readings before the budget."

Asked whether she believed Prime Minister Benjamin Netanyahu was interested in solving the crisis, Gamliel said: "There's no reason to call elections when we have a year and a half left. I think this is the best coalition we've had since I first arrived in the Knesset and there is no reason to dissolve it over differences of opinion.

"The Haredi factions aren't showing faith in the coalition factions, and I believe there is room for a serious dialogue to try to come up with a solution. We can find creative solutions to the draft issue which are not only related to the army recruitment issue. Like we did in the Arab sector, we can find a situation of national service and communal service to ensure a situation with rights and responsibilities."

As for the Ynet report that Netanyahu's former media advisor, Nir Hefetz, was holding advanced talks to turn state's witness in the Bezeq affair, Gamliel said it would have no impact on the preparations for possible elections.

"I don't think it holds any weight, because the attorney general's considerations will be legal, rather than an election process or any other political consideration.

"We are no longer excited by state's witnesses in the criminal proceeding," she added. "In terms of evidence, a state's witness holds a relatively lower weight than a regular witness. We have to wait patiently for the attorney general to have all the considerations before his eyes before receiving a more accurate picture and knowing where we are headed."