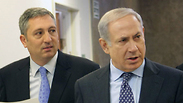 Hefetz (L) and Netanyahu
Photo: Alex Kolomoisky
Nir Hefetz, PM's former advisor, in advanced talks to turn state's witness
Ynet learns senior criminal defense lawyer met with police and ISA officials several times last week on Hefetz's behalf to discuss conditions of state's witness agreement in Bezeq corruption affair; prime minister's former media advisor, who was detained for two weeks in Case 4000, has so far denied all allegations against him.
The Israel Police and Israel Securities Authority are holding advanced talks with Nir Hefetz, Prime Minister Benjamin Netanyahu's former media advisor, in a bid to turn him into a state's witness in the Bezeq corruption investigation known as Case 4000.

Ynet has learned that senior criminal defense lawyer Ilan Sofer, who has finalized a number of state's witness deals with the police's Lahav 433 Unit in the past, met with senior Lahav officials on Hefetz's behalf several times last week to discuss the conditions of such an agreement.

On Monday, Hefetz arrived at the Lahav 433 offices in Lod for a meeting with police and ISA investigators. A source involved in the investigation said a state's witness agreement was closer than ever.

Hefetz, who was detained for two weeks in Case 4000, has so far denied all the allegations against him. He has been represented throughout the affair by Adv. Yaron Kostelitz. On Sunday, Hefetz was released from custody and placed under house arrest.

Below the surface, however, it seems the police's crime-fighting umbrella organization and the ISA have been operating on a secret channel. Adv. Sofer, who met with Lahav 433 officials on Hefetz's behalf last week, was the architect of the state's witness agreement that was signed with Miki Ganor in the submarine affair.

Although the police already have a state's witness agreement with Communications Ministry Director-General Shlomo Filber, they realized Hefetz would be able to make a significant contribution to the case. They called Adv. Sofer and arranged for him to meet with Hefetz several times. The negotiations are reportedly in advanced stages.

Another associate of Prime Minister Netanyahu, his former chief of staff Ari Harow, signed a state's witness agreement in Cases 1000 and 2000.

Minister Gila Gamliel, asked by Ynet whether the talks with Hefetz would send the political system into an even bigger tailspin, said Monday: "We are no longer excited by state's witnesses in the criminal proceeding. In terms of evidence, a state's witness holds a relatively lower weight than a regular witness. We have to wait patiently for the attorney general to have all the considerations before his eyes before receiving a more accurate picture and knowing where we are headed."

Hefetz was arrested about two weeks ago on suspicion of taking a bribe and obstruction of justice. One of the court hearings revealed he had already provided the ISA with a detailed testimony in late December and was asked about his ties to Shlomo Filber and Shaul Elovitch, the controlling shareholder of the Bezeq telecommunications company.

Police suspect that Bezeq received benefits worth about NIS 1 billion from the Communications Ministry in return to favorable coverage of Netanyahu and his family in the Walla! website, which is owned by Elovitch.

In recent years, Hefetz has been considered one of the confidants of Netanyahu and his wife Sara, often defending the family to the media. He served as the family's media advisor from 2014 to 2017, working primarily with the prime minister's wife.

During that period, State Comptroller Yosef Shapira uncovered irregularities in the administration of the Prime Minister's Residence, leading police to launch a criminal investigation.

A source working at the residence at that time told Calcalist that Hefetz "assisted Sara in withstanding the media pressure and served as a personal bodyguard of sorts to her. He invested a lot more work than would have been expected of him as the prime minister's spokesman."

Hefetz was one of the six people questioned simultaneously in the Bezeq affair on Friday, along with Prime Minster Netanyahu and his wife Sara, Elovitch and his wife Iris, and Eitan Tzafrir, a former chief of staff at the Communications Ministry.

Hefetz was released to house arrest on Sunday and placed under identical conditions. He is forbidden from entering government offices for 45 days and forbidden to leave the country for six months. In addition, he is not allowed to contact any of the people involved in the affair for three months.

Hefetz is also suspected in Case 1270, an attempt to bribe District Court President judge Hila Gerstl with appointment to attorney general in return for tossing out a case against the prime minister's wife Sara Netanyahu.

Adv. Kostelitz offered the following comment: "I don't represent state's witnesses. That's my response. I am unaware of Nir being a state's witness."