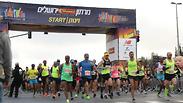 The Jerusalem Marathon
Photo: Flash 90
35,000 people run in Jerusalem Marathon
Capital's 8th annual marathon draws runners from 72 countries; Kenyan Shadrack Kipkogey finishes 1st for his 3rd straight win, Ethiopian Damte Wendwesen Tilahun 2nd; 2-time Olympic champion Haile Gebrselassie, race's guest of honor, will run 10km race along with Jerusalem Mayor Nir Barkat.
Some 35,000 runners from 72 countries participated in the eighth annual Jerusalem Marathon, which began at 6:45am Friday and will continue until 2pm. Kenyan runner Shadrack Kipkogey finished the marathon first in 2 hours, 21 minutes and 27 seconds.

The win marked the third consecutive time Kipkogey won the marathon, this time finishing ahead of Ethiopian Damte Wendwesen Tilahun, who finished after 2:21:57.

Magen David Adom and police forces spread out throughout the race's route to ensure the marathon's security and care for the runners' well-being, if necessary. Traffic police, meanwhile, directed drivers to alternate routes due to multiple road closures.

The Jerusalem Marathon started off (צילום: אלי מנדלבאום)

The 2018 marathon commemorated both the 50th anniversary of Jerusalem's reunification in the Six Day War and Israel's forthcoming 70th Independence Day.

Starting at 5:30am Friday, streets closed to traffic included: Ruppin Boulevard, the Hebrew University's campus, Rabin Boulevard, Hazaz Boulevard, Tchernichovsky, HaPalmach, HaNassi, Keren HaYesod, King George, Jaffa, Haim Bar-Lev Boulevard, Jaffa Gate, King David, Chopin, Emek Refaim, Beit Lehem Road, Hebron Road, Yehuda, Pierre Koenig, Elazar HaModai, Kovshei Katamon and Sacher Park.

In addition, traffic disruptions in all streets adjacent to the race's route were to be expected. Closures will be removed according to the runners' progression, with police appealing to the public to avoid using their private vehicles if possible and to instead use public transportation.

All of the entrances to Jerusalem will remain open: Highway 1, Highway 443, Ein Karem, Gush Etzion and Ma'ale Adumim Road. In addition, within the city proper Begin Road will remain open throughout, as will Herzl Boulevard, Golomb Bouvleard, Golda Meir Boulevard, Shmuel HaNavi Street and Bar Ilan. Access to the Western Wall and to east Jerusalem will be possible through the Eshkol tunnel.

Entrance to the neighborhoods of Gilo, Pat, Katamonim Het and Tet, Givat Massuah, Malha, Bayit VeGan, Givat Shmuel, Har Nof, Beit HaKerem, Kiryat Yovel, Ir Ganim, Kiryat Menachem, Ramat Shlomo, Neve Yaakov, Pisgat Ze'ev, Beit Hanina, Shuafat and Har Homa will remain clear.

Agrippas Street will remain open to traffic and access to the Mahane Yehuda Market will be kept clear. HaNevi'im Street will be open from Shivtei Yisrael to HaDavidka. All areas surrounding the central bus station and roads leading to the city's hospitals will remain open as well.

The marathon's guest of honor will be legendary Ethiopian runner Haile Gebrselassie, a two-time Olympic champion and considered by many to be one of the greatest athletes of all time. Gebrselassie will also be participating in the 10km run, along with Jerusalem Mayor Nir Barkat.

Liraz Hassan, 25, of Bnei Brak, participated in the 10km heat. "It's my first time in the Jerusalem Marathon," she revealed, "after having already participated in the Tel Aviv Marathon.

"It's hard to run in Jerusalem due to all the uphill and downhill stretches, but it's worth running here because of the view," she said.

Hezi Alon, 60, and his son Guy, 10, participated in the 5km heat together. "We run the Jerusalem Marathon every year. We do anything related to sports—biking, skiing, unicycling."

Last month, the Tel Aviv Marathon was completed in just under two hours and twenty minutes by a Kenyan runner after getting underway for the tenth time, with some 40,000 runners from Israel and abroad participating.