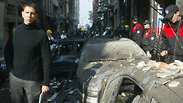 Bergman on the scene of a terror attack in Buenos Aires
Ripping the curtains open on Israel's targeted killings
Review: Dr. Ronen Bergman's 'Rise and Kill First' shines a spotlight on some of the more shadowy parts of Israel's history, from the successful hits on Hezbollah's Imad Mughniyeh and Fatah's Abu Jihad, to the botched and aborted attempts to kill Arafat; a must-read for those with a keen interest in Israeli history and the world of espionage.
A magician never reveals his tricks. And so, Israel's intelligence agencies – the Mossad, the Shin Bet and the Military Intelligence Directorate – have kept their tricks closely guarded over the years. Some details inevitably emerged, and Israel received credit – or blame – for countless of clandestine operations against its enemies. But on the whole, Israel's spies kept mum and more information remained under wraps than saw the light of day.
That is, until now.
In his new book "Rise and Kill First: The Secret History of Israel's Targeted Assassinations," Dr. Ronen Bergman not so much as provides a peek behind the curtain as he rips the curtain open for all to see.
Eight years in the making, the book recounts the history of the State of Israel through the eyes of its spies. Its tales – some more known than others – are based on interviews with some 1,000 individuals who had a hand in creating, fostering and immortalizing Israel's reputation as a deadly and cunning adversary that could get to its enemies anytime, anywhere. Bergman's interviewees also provided him with countless of documents – not all of which they were allowed to take from their top secret places of employment – to support and augment their stories.
And so Bergman expertly shines a spotlight on some of the more shadowy parts of Israel's history. From the early days of the Jewish Yishuv in Palestine, under first Othman and later British rule, to the present day.
Even erudite readers who make it their business to know all there is to know about Israel's 70-year history will undoubtedly find much to sink their teeth into.
In this lengthy tome, Bergman uncovers and dissects the highs and lows of Israel's "negative treatment" operations: those that were a great success as well as those that failed spectacularly and led to disastrous results.
The book covers all of Israel's "greatest hits" (do excuse the pun): From Fatah co-founder Khalil al-Wazir (Abu Jihad) and PFLP leader Wadie Haddad to Hamas founder Ahmad Yassin and Hezbollah military chief Imad Mughniyeh. Other notable assassinations include Hezbollah secretary-general Abbas al-Musawi (Hassan Nasrallah's predecessor), Palestinian Islamic Jihad leader Fathi Shaqaqi, Hamas's 'Engineer' Yahya Ayyash and Syrian general Muhammad Suleiman, Assad's chief advisor.
Some lesser known names appear as well, as the book details Israel's efforts to sabotage the unconventional weapons programs of Iraq, Syria and Iran by killing its scientists and blowing up reactors (or rather, reactors-in-the-making), and the targeted killing campaign against Hamas that put an end to the second intifada.
Of the latter category the book delves into the botched operation in Lillehammer, Norway, when the Mossad meant to kill a master terrorist who was behind the Munich massacre but instead assassinated an innocent pool cleaner, as well as the tale of why Hamas leader Khaled Mashal, who was at death's door after being poisoned by the Mossad, still walks among us today.
Bergman painstakingly explores the numerous failed or aborted attempts to kill PLO leader Yasser Arafat, but falls short of making any kind of determination on whether the death of one of Israel's biggest foes was a natural one or foul play (the reason for that, conversely, is the all-mighty military censor, which won't let Bergman even hazard an educated guess).
But Bergman doesn't settle for glorifying Israel's intelligence community. He highlights and criticizes the bad decision-making when it led to catastrophic results and even when "the target has been eliminated, but the operation failed," as former Shin Bet director Avi Dichter put it after the assassination of Hamas military leader Salah Shehade was successful, but it claimed the lives of a dozen innocents.
"Rise and Kill First" also examines the issue of morality when it comes to targeted killings. Bergman describes at great length the discussions behind decisions to go ahead or abort certain missions – including several missed golden opportunities to kill Arafat – due to the risk of endangering innocent people. Further discussions revolve around the legality of assassinations, and whether they should serve solely as a tool to prevent future harm to Israel and its citizens, or perhaps also serve as punitive action against those who have already committed heinous acts against Israelis and Jews.
While the book is undoubtedly comprehensive, it was still missing some assassinations. One such assassination conspicuous by its absence is that of Hamas military commander Ahmed Jabari, who played a part in the kidnapping of IDF soldier Gilad Shalit in 2006 and led the terror group's takeover of the Gaza Strip in 2007, and whose liquidation in 2012 was the opening shot of Operation Pillar of Defense.
Also missing was the story behind the January 2015 airstrike that killed Imad Mughniyeh's son, Jihad, as well as a general of the Iranian Revolutionary Guards, Mohammad Ali Allahdadi; the December 2015 assassination of Samir Kuntar; and the December 2016 attack that claimed the life of Hamas drone maker Mohamed Zouari in Tunisia – all attributed to Israel.
But these omissions were not for lack of trying. Bergman, who studied history at Cambridge, doesn't do brevity – his book is almost 800 pages long, making it an extremely comprehensive account of Israel's targeted killing as it is. It was not for lack of sources, either. Indeed, Tamir Prado, who was the director of the Mossad until 2016, noted that "Bergman's ability to reach sources inside Western intelligence communities is amazing (and, I must say, also a little disturbing)."
Nevertheless, it would be very difficult, and perhaps even nigh impossible, to cover the full length and breadth of Israel's "negative treatment" operations – be it because most of the important assassinations not covered in the book are fairly recent, or because Israel has eliminated more people than any other Western country since World War II, making the sheer scope daunting for most people, but not for Bergman.
The New York Times bestseller is definitely a must-read book for anyone with a keen interest in the history of the State of Israel, the world of espionage, and the philosophical discussions behind targeted killings.