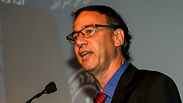 State Attorney Shay Nitzan
Photo: Yariv Katz
SA Nitzan counters PM Netanyahu's claims on state's witnesses
Responding to criticism voiced by PM Netanyahu regarding the 'industry of state's witnesses,' State Attorney Nitzan says 'We'll never recruit state's witnesses and tell them to lie. Claiming otherwise is absurd'; state's witnesses a 'significant tool that has proven itself in recent years,' he adds.
State Attorney Shay Nitzan commented Sunday evening on statements made by Prime Minister Benjamin Netanyahu last week regarding recruitment of state's witnesses for his investigations. Nitzan countered by saying, "We'll never recruit state's witnesses and tell them to lie. Claiming otherwise is absurd."

Speaking at an Israel Democracy Institute conference, Nitzan was railed against the prime minister's video on the "industry of state's witnesses," as he called it.

The latest verbal assault on investigative teams comes just days after the prime minister's former media advisor, Nir Hefetz, signed a state's witness agreement, joining two other former close Netanyahu associates who have turned state's witnesses recently—Ari Harow and Shlomo Filber.

"They take people who claim that they carried out some offense," Netanyahu said in the video, "place them under arrest, terrify them and say to them, 'Your life is over. Your family's lives are over. We're taking practically everything from you, including your freedom. Do you want to be free of this? There is one way out—slander Netanyahu. It doesn't matter if you tell hallucinatory lies. The main thing is that you slander Netanyahu.'"

The state attorney protested the premier's characterization and explained that "agreements with state's witnesses are a significant implement in law enforcement's toolbox when tackling organized crime and public corruption.

"It is a tool accepted in other countries as well, which assists in combating crime. Similar agreements were signed in the past few years in corruption cases and they have proven themselves.

"State's witnesses are not righteous men and deserve no glory, but the question at the center of public trust should not be whether they're worthy of said glory. State's witnesses provide an immense public good in purging government corruption that takes place away from the public's eye.

"In order to breach the secret tapestry of give-and-take agreements, you need a narrow crack. Sometimes only state's witnesses can provide that crack.

"On the same matter, I wish to unequivocally disavow different publications about the investigations on all our minds, which create a false impression in the public as if the arrow had already landed where it landed and now all that remains is drawing the target around it—as if everything is signed, sealed and delivered.

"Well, I'm sorry to 'rain on this parade,' but a criminal procedure is not child's play, nor is it a newspaper headline. The investigation is a real one. It should be carried out with the requisite thoroughness, and then the evidence must be examined truly, openly, thoroughly and matter-of-factly. The correct order is to investigate first, and decide later—not the other way around."

Nitzan continued, "As I have made clear, our stances will not be determined by the degree of public sympathy for anyone, or by the degree of public enmity. Neither demonstrations nor newspaper headlines will decide. We progress with determination and thoroughness according to evidence, and in due time will make a decision based on professional considerations, and those alone.

"One other point should be made clear: fighting corruption is not just a legal duty. Combating corruption is also a moral edict. It's a Jewish edict. It's a democratic edict. Every member of the public can and should help battle corruption. In order to do so, you must stand alongside law enforcement, support its personnel and its actions.

"This support should not be automatic, or unqualified or unconditional. Attacks, disparaging remarks and discouraging speeches against gate keepers—a word that has become derogatory recently—however, or against law and prosecution authorities, are certainly not the way to combat governmental corruption."

The prime minister's contentious video was uploaded a day after Police Commissioner Roni Alsheikh spoke about state's witnesses himself, saying they were "one of the most important tools of deterrence against criminal organizations and public corruption."

"A state's witness tells the story. As long as his testimony is strong, stable, open and—obviously—underpinned by other evidence, it seriously strengthens the case," Alsheikh said during a speech in Ashkelon's Sapir Academic College.

"Our test is to take down corruption—not to show that we have managed to convict someone, but to take down corruption," he continued. "If what we do doesn't take down corruption, we are not serving society."