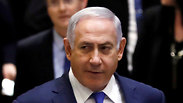 Prime Minister Benjamin Netanyahu. Some say he is still somewhat afraid of elections
Photo: Reuters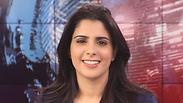 Moran Azulay
Photo: Yaron Brener
Odds are in Netanyahu's favor, but elections hold some risks too
Analysis: The flattering polls indicate the prime minister is the only one who stands to gain from elections at this time; on the other hand, some of his coalition partners may fail to pass the electoral threshold, and who knows what surprises his investigations have in store for him.
It was hard not to smile Monday when Benjamin Netanyahu of all people urged the coalition parties from the Knesset podium to try to prevent elections.

If we look at the political state of affairs, as reflected in the polls published by the television channels later in the evening, it's clear to everyone that the only person who stands to gain from elections at this time is the person who is allegedly calling for their prevention.

In the past few weeks, it has become clear that elections are vital for the prime minister. Netanyahu understands that his difficult legal battle must be fought from the position of a strong leader with a political clock that has just started ticking. Put simply, he needs a new term.

Otherwise, he could find himself at the end of his current term with an indictment and a highly complex political situation. Moreover, gaining the public's trust now, while he is neck-deep in investigations, could turn a possible announcement of an indictment into a smaller event.

Some politicians believe Netanyahu is fully coordinated with Defense Minister Avigdor Lieberman. One is pushing the ball into the other one's court, and the other one is pushing it back. Like in the good old days, when Lieberman served as director-general of the Prime Minister's Office during Netanyahu's first term in 1996. On the other hand, there are those who say Netanyahu is still somewhat afraid of elections, even now.

First of all, some of his partners (Shas, for example) are teetering on the electoral threshold—and that might change the ratio between the right-wing and left-wing blocs. Second, unexpected scenarios—like Yair Lapid teaming up with Knesset Member Orly Levy-Abekasis or joining forces with a player like former Defense Minister Moshe Ya'alon—could bolster the Yesh Atid party significantly.

Netanyahu also knows that investigations during an election campaign won't be pleasant. Who knows what the future holds, what will be leaked, what kind of information the state's witnesses are providing, what kind of recordings might suddenly emerge. Netanyahu's risk of losing the elections—a scenario which currently seems completely unrealistic—is huge. He might have to deal with his legal fate without the courtesy and respect an interrogated prime minister is unofficially entitled to.

Netanyahu is also taking a certain risk that the elections won't be held at a time suitable for his partners, which would force him to deal with their resentment on the day after the vote.
Bennett's critical hour
As far as the opposition is concerned, these elections will likely be Lapid vs. Netanyahu. Zionist Union leader Avi Gabbay is still lagging behind and having difficulties forging ahead for now. His party's unclear stand on the election date didn't help either. An opposition party can't afford to reach a situation in which the prime minister ridicules its fear of elections.

Gabbay has a number of secured spots on the Labor's Knesset seats, which have been approved in advance. The question is, does he have any strong players to place in those spots.

It will be also interesting to see how Bayit Yehudi leader Naftali Bennett handles the upcoming elections. Fuming over the decision to call early elections, the education minister launched a battle against Netanyahu this week with bare fists.

Bennett understands the risk: If Netanyahu cries for help from the national-religious public, and Bennett has bitter experience with that, the voters might rush to aid Likud again and weaken the Bayit Yehudi party. Bennett will be the immediate victim.

Earlier this week he implied—or even threatened, some would say—that he would run for prime minister if Netanyahu dissolved the government for no reason. This is his critical hour: Is he strong and mature enough to challenge Netanyahu and really announce his candidacy for the premiership, or will he eventually remain a captive audience in Netanyahu's next government as well?