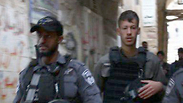 Scene of attack
Photo: Ohad Zwigenberg
Police arrested Monday night eight people suspected of not trying to prevent a deadly terror attack in Jerusalem's Old City on Sunday which claimed the life of Adiel Kolman.

Two of the suspects were released at the conclusion of the investigation and the remaining six were brought to the courts to have their remand extended.

However, the court decided that the evidence against the suspects for failing to prevent the attack was "weak" and therefore, "I have decided to release the defendants to full house arrest until 25 March. They are forbidden from making contact with the defendants in the case.

According to the police investigation, eight traders aged between 15 and 67, who live on HaGai street where the attack took place, were in the area when the bloodletting began.




Police suspect that despite the fact that they realized what was taking place, they did nothing to try and prevent it.

The 28-year-old terrorist, Abd al-Rahman Bani Fadel, who was later confirmed to be a Palestinian from the village of Aqraba near Nablus, was shot dead by a police officer at the scene.

Fadel, a father of two, had a temporary permit for a week that allowed him to enter Israel to search for employment. He had already received such permits in the past, as there was no indication of his terrorist intentions.

The day he carried out his terror attack was the first day that his permit enabled him to enter Israel.

Kolman, 32, from the settlement of Kokhav HaShahar in the West Bank, is survived by his wife and four sons. He was buried on Monday at the Kokhav HaShahar cemetery.

"You were called 'the jewel'—you were our jewel," Kolman's mother said. "You finished your mission in this world and God, may His name be blessed, took you too quickly, too painfully."

"Everyone knows you were a simple man, good, direct, who laughs and embraces. You won life with your rolling laughter. You were the best father there is," Kolman's sister said. "I will remember you as Adi, not as a news item."