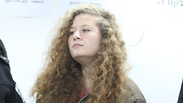 Ahed Tamimi
Photo: Amit Shabi
Ahed Tamimi sentenced to 8 months in prison in plea deal
Palestinian teen provocateur sentenced for slapping IDF officer during Nabi Salih riots in December, will also pay NIS 5,000 fine; her cousin Nur Tamimi sentenced to 5 months for same incident; Tamimi's mother Nariman sentenced to 8 months, NIS 6,000 fine.
Palestinian teen provocateur Ahed Tamimi, on trial for slapping an IDF officer and accosting him and a comrade during Nabi Salih riots, was sentenced to eight months in prison on Wednesday, under a plea bargain finalized between the Military Prosecution Service and Tamimi's lawyers.

The agreement was brought to the Ofer Camp's military tribunal Wednesday for approval. Tamimi's cousin, Nur Tamimi, who also took part in the incident, was sentenced to five months in prison.

The two Tamimi girls—Ahed, 17, and Nur, 21—were filmed hitting a company commander and a soldier in December during clashes between Palestinians and IDF forces in the village of Nabi Salih in the central West Bank.

The original footage of Tamimi slapping the soldier

Ahed Tamimi, incarcerated since December 19, was charged with assaulting the officer and soldier, attacking members of the security forces in five other incidents, stone throwing, participation in clashes, threats and incitement. Her cousin Nur was charged with aggravated assault of a soldier.

As part of the deal, Tamimi will plead guilty to four of the charges in the indictment: the assault on the officer caught on film, incitement and two prior instances of disrupting IDF soldiers.

She will serve eight months in prison and be forced to pay an NIS 5,000 fine.

Tamimi's mother was also sentenced to eight months in prison and a NIS 6,000 fine. She was charged with assisting the documented assault, incitement and a prior count of disrupting soldiers' activities.

As for Tamimi's cousin, aside from her prison sentence, it was determined that should she commit another violent offense in the next three years, she will sentenced to five more months. If she disrupts security forces within the next two years, moreover, she will be incarcerated for two months.

Ahed Tamimi's trial began January 31. The testimonies of the company commander and soldier involved in the incident were revealed mid-January.

According to the soldiers, riots that day lasted four hours. The pair was coming near the Tamimi residence in the southern Samaria village when stones were thrown at them.

"At first we were nearby Palestinians' homes, because we knew that once riots break out, activists go into the (Tamimi) home and start throwing rocks at IDF forces," the company commander told the army's Criminal Investigation Division (CID) investigators.

"We therefore approached the place to prevent rocks from landing on the (forces') route. A short while later, the Palestinians noticed our positions and started lobbing the rocks at us. We could not ascertain who was throwing them, and so we entered the house's courtyard to prevent them from doing so," he continued.

As for the assault itself, the officer said, "One of the minors (Ahed), a blonde girl of 12 or 13, wearing a light denim jacket, started shoving, kicking and raising her hands at me. She slapped me and punched my signal operator in the face. The other minor (Nur) was less violent. She mostly pushed me. Then an older woman arrived, tried reining the girls in, but failed."