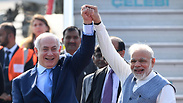 Indian PM Modi greets Netanyahu upon his arrival to India
Photo: AFP
Prime Minister Benjamin Netanyahu arrived Sunday for his first visit to India to expand defense, trade and energy ties.

Netanyahu and his wife, Sara, received a pleasant surprise upon their arrival in New Delhi—Indian Prime Minister Narendra Modi came to welcome them in person, even though the foreign minister is normally the one greeting dignitaries to the country.

Modi also tweeted a greeting to Netanyahu in Hebrew: "Welcome to India, my friend the prime minister. Your visit is an historic and special one, and will strengthen the strong ties between our countries."

During his six-day stay Israel and India are expected to sign agreements on cybersecurity, energy and space cooperation and film production. They're also expected to review progress in implementing agreements on cooperation in technology, water and agriculture that were signed during Modi's visit to Israel last year, the first by an Indian prime minister to Israel.

Before leaving for India, Netanyahu told reporters in Israel that the trip "serves our security, economic, trade and tourism interests, as well as many other areas."

"We are strengthening ties between Israel and this important global power," he said.

The visit marks 25 years since India and Israel established diplomatic relations, but comes just weeks after India voted in favor of a UN resolution denouncing US President Donald Trump's recognition of Jerusalem as Israel's capital.

Netanyahu greeted by Modi as he arrives in India (צילום: לע''מ)

Daniel Carmon, the Israeli ambassador to India, played down India's vote.

"I think that the relationship is much stronger than one vote at the UN," he said.

Bilateral trade between the countries has skyrocketed from $200 million in 1992, when India and Israel established diplomatic ties, to $4.16 billion in 2016. But that remains far below Israel's nearly $40 billion in annual trade with its largest partners, the United States and the European Union.

Still there are irritants in the growing relationship, including India's cancellation of a $500 million anti-tank missile deal with Israel's Rafael Advanced Defense Systems Ltd. It wasn't clear why India scrapped the deal before the contract was signed.

During the Cold War, India didn't have open relations with Israel, leaning heavily in favor of the Palestinians. But over the past quarter century, the two countries have developed close ties.

Carmon said that Israeli-India ties would withstand any troubles.

"The relationship is an all-weather relationship," he told reporters Friday, adding it was "so strong and so important to both countries that our feeling is that nothing can reverse it."

He said Netanyahu was bringing with him 130 businesspeople, "which reflects the enthusiasm in Israel to do more business with India."

On Monday, Netanyahu will have formal discussions with Modi and call on President Ram Nath Kovind as well as attend an India-Israel CEO Forum Meeting.

In Mumbai, Netanyahu will meet with Jewish community leaders, Indian business leaders and representatives of the Bollywood film industry. Netanyahu will also visit Modi's home state of Gujarat in western India.