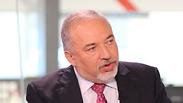 Defense Minister Lieberman
Photo: Avi Mualem
Defense Minister Avigdor Lieberman rejected on Sunday calls for an inquiry into the killing of 16 Palestinians by the IDF during a Palestinian demonstration that turned violent on Friday at the Gaza-Israel border.
Hamas, Gaza's rulers, said five of the dead were members of its armed wing. Israel said eight of the 16 belonged to Hamas and two others came from other militant factions.
UN Secretary-General Antonio Guterres has called for an independent investigation into Friday's bloodshed.
His appeal was echoed by Federica Mogherini, the European Union's foreign policy chief, Amnesty International, and by Tamar Zandberg, leader of the left-wing opposition Meretz party.
"Israeli soldiers did what was necessary. I think all our soldiers deserve a medal," Lieberman told Army Radio. "As for a commission of inquiry - there won't be one."
He said troops acted appropriately by only firing on Palestinian protesters who charged toward the border fence, insisting that those who protested peacefully were not harmed.
Tens of thousands of Palestinians gathered on Friday along the fenced 65-km (40-mile) frontier, where tents had been erected for a planned six-week protest pressing for a right of return for refugees and their descendents to what is now Israel. But hundreds ignored calls from organizers and the IDF to stay away from the frontier.
The IDF said some of those who were shot had fired at soldiers, rolled burning tires and hurled rocks and Molotov cocktails toward the border.
"The use of live ammunition should, in particular, be part of an independent and transparent investigation," Mogherini said in a statement on Saturday. "While Israel has the right to protect its borders, the use of force must be proportionate at all times."
The protest is scheduled to culminate on May 15, when Palestinians mark the "Nakba" or "Catastrophe" when hundreds of thousands fled or were driven out of their homes in 1948, when the State of Israel was created.
Israel has long ruled out any right of return, fearing it would lose its Jewish majority.
On Saturday, IDF troops using live ammunition and rubber bullets shot and wounded about 70 Palestinians among demonstrators at the border, Palestinian officials said. Witnesses said stones were thrown at the soldiers.
On Sunday, Palestinians were coming near the security fence in an apparent attempt to provoke IDF soldiers and then retreating back to the tent encampments as a tensed yet quiet atmosphere prevailed in the area.
Associated Press contributed to this report.