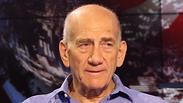 Former PM Olmert
Photo: Avi Mualem
Former prime minister Ehud Olmert has submitted a request to President Reuven Rivlin, seeking to annul the period during which he is barred from running for office, and asking him to expunge his criminal record.

If his record is indeed stricken, it may pave the former premier's way back into politics, less than a year after being released from prison last year.

The President's Residence issued comment on the matter, saying, "A pardon request on behalf of Ehud Olmert was submitted to annul the limitation period and expunge his criminal record. The request was forwarded to the relevant parties and after the requisite legal opinions are provided, the request will be brought to the president for decision."

The State Attorney's Office and the Justice Ministry's pardons department are both expected to object. Early estimates said turning down Olmert's request may be done on the basis of the fact that not enough time has elapsed since his release from prison.

Moreover, the fact that Israel's prosecution office has made the war on corruption its stock-in-trade, the current political climate does not bode well for the former prime minister.

Justice Minister Ayelet Shaked, who would be required to provide her own recommendation to the president, announced at the start of her term her abstention in such cases, leaving the matter up to the president himself. She is expected to do the same on this matter as well.

Olmert was released from Maasiyahu Prison in July of last year after serving two thirds of his prison term. He was originally sentenced to 27 months' incarceration and served the term in Ramla starting February, 2016.

The former premier was convicted of accepting NIS 60,000 in bribes while serving as trade minister, and of disruption of court proceedings for his attempt to dissuade his aide-de-camp Shula Zaken from taking a plea bargain. Olmert was also convicted of accepting money-filled envelopes from the American Jewish businessman Moshe Talansky in return for favors.

In the decision to release him, the parole board wrote, "With all the gravity of his various offenses, they should be taken as a single whole in the sense that during this time period of the prisoner's stay in public life, he was stained by corruption, and was punished for his deeds, paying a heavy price.

"Regarding his conduct (while incarcerated), it has been nearly immaculate save for one disciplinary matter, of an improper utterance towards a jailer, for which he has been punished. In light of the above, we hereby decide to accept his request for unconditional release in accordance with the plan by the Prisoner Rehabilitation Authority," the board's statement concluded.