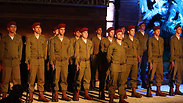 Ceremony
Photo: Gil Yohanan
Prime Minister Benjamin Netanyahu warned Iran Wednesday evening "not to test Israel's resolve," while speaking at a state ceremony for Holocaust Memorial Day at Yad Vashem Holocaust Memorial museum in Jerusalem.
Delivering his remarks immediately after President Reuven Rivlin, Netanyahu said that events in recent days, in reference to Syria's attacks in Douma using chemical weapons, "show that confronting evil and aggression is a mission that is imposed on every generation."
There is no generation, he said, which is exempt from carrying out the mission, and "woe to the generation that evades it."
After issuing his warning to Tehran, which is seeking to establish a military presence in war-torn Syria in a bid to threaten Israel, Netanyahu turned to the people of Iran.
"Israel is not your enemy, but rather the tyrannical regime which represses you is," Netanyahu said. "When it disappears, our two ancient nations will be able to live again in cooperation and in brotherhood."
Israel is not turning a blind eye to the dangers, he continued, and is "not surprised by them most of the time.
"In the Holocaust we were defenseless, with no shield or voice. In truth, our voices were not heard at all. Today, we have a strong country, a strong army, and are voice is heard throughout the nations," the prime minister said.
He reminded his listeners of the fact that a flag with a swastika was waved on the Gaza border, adding that "our hearts are torn at the sight of horror" over Syrian President Bashar al-Assad's use of chemical weapons.
"One big lesson that has escorted us since the Holocaust is that murderous evil that is not confronted rapidly spreads. Gradually, it threatens all of humanity," Netanyahu warned.
This was his main message, he added, at the Munich Security Conference two months ago.
"I went as the prime minister of Israel to Munich aware of the difficult incidents that had taken place in the city. In Munich, the Nazi oppressor began to spread the terrible race theory," Netanyahu said.
"In Munich, leaders of the free world signed 80 years ago the appeasement agreement with the aggressor. They sought to avoid war, but their concessions only brought it closer, increased its damage and brought about the occupation of the whole of Europe."
Israel, he vowed, will never act in "this mistaken way. We stop the the aggression at the bud, and these are not just empty words. We back them up with action. Attacks against attacks, attacks in defense, for deterrence, attacks against anyone who threatens to destroy us.
"Because today as well, an extremist regime threatens us, threatens peace of the entire world—this regime explicitly declares its intention to destroy us, the state of the Jewish people," he said.
Drawing the comparison once again with the 1938 Munich Agreement in which UK Prime Minister Neville Chamberlain signed a deal with Adolf Hitler believing he had solicited guarantees from the Nazi dictator not to make any more territorial expansions, Netanyahu said that the Iran nuclear deal was similar, in the sense that "it is not worth the paper it is written on."
Speaking before Netanyahu, President Rivlin said slammed people who deny the Holocaust or the truth, and said that while Europe could not fully atone for the sins of the past, it could work with Israel for a better future.
"We don't expect justice in Europe to correct the past. Justice cannot bloom from grounds on which our brothers and sisters were burned alive," he said.
"We do expect partners in truth, with whom together we can invest in education, in research institutes, commemoration and memorial, teach what happened and ensure that it never happens again," the president continued.
Anti-Semitism, he said, has not disappeared, and never will disappear. "Hatred of Israel has not changed, but we have changed. We are strong and confident."
The official memorial ceremony began at Yad Vashem, as the nation remembers the six million Jews liquidated by the Nazis in the Holocaust during World War II.
President Reuven Rivlin also addressed the hundreds of people, among them Holocaust survivors, in attendance.
Holocaust Memorial Day is one of the most melancholy days on Israel's calendar.
Six Holocaust survivors lit torches to commemorate the the six million Jews murdered in the Nazi extermination program.
Places of entertainment and cafes closed down. TV and radio stations broadcast documentaries about the Holocaust and interviews with survivors or somber music until sundown the next day.
Israelis come to a mournful, two-minute standstill to remember the dead Thursday morning when a siren wails across the country. Pedestrians stop in their tracks. Cars pull over on highways and roads and many people exit their vehicles to stand still in contemplation.
The names of Holocaust victims are read out in parliament.