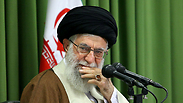 Ayatollah Ali Khamenei
Photo: Reuters
The Iranian Supreme Leader's envoy to the elite Quds Force unit said on Thursday that Tehran could destroy Israel and warned it to avoid any "stupid" measure against the Islamic Republic, the semi-official Fars news agency reported.

"If Israel wants to continue its treacherous existence ... it should avoid stupid measures. If they give excuses to Iran, Tel Aviv and Haifa will be destroyed," cleric Ali Shirazi—Supreme Leader Ayatollah Ali Khamenei's representative to the Islamic Revolutionary Guard Corps's Quds Force—was quoted by Fars as saying. "Iran can destroy Israel."

The Quds Force is the espionage and paramilitary wing, in charge of overseas operations, of the elite Revolutionary Guards.

Iran has repeatedly predicted Israel's demise, and supports armed groups pledged to its destruction.
PM Netanyahu at Yad Vashem: 'Don't test our resolve'
Prime Minister Benjamin Netanyahu warned Iran Wednesday evening "not to test Israel's resolve," while speaking at a state ceremony for Holocaust Memorial Day at Yad Vashem Holocaust Memorial museum in Jerusalem.

Netanyahu has said Israel will not tolerate an Iranian military presence in Syria, especially along the border. Iran has sent troops and allied militiamen to support Syrian President Bashar Assad's forces.

Delivering his remarks immediately after President Reuven Rivlin, Netanyahu said that events in recent days, in reference to Syria's attacks in Douma using chemical weapons, "show that confronting evil and aggression is a mission that is imposed on every generation."

There is no generation, he said, which is exempt from carrying out the mission, and "woe to the generation that evades it."

After issuing his warning to Tehran, which is seeking to establish a military presence in war-torn Syria in a bid to threaten Israel, Netanyahu turned to the people of Iran.

"Israel is not your enemy, but rather the tyrannical regime which represses you is," Netanyahu said. "When it disappears, our two ancient nations will be able to live again in cooperation and in brotherhood."

Israel is not turning a blind eye to the dangers, he continued, and is "not surprised by them most of the time.

"In the Holocaust we were defenseless, with no shield or voice. In truth, our voices were not heard at all. Today, we have a strong country, a strong army, and are voice is heard throughout the nations," the prime minister said.

He reminded his listeners of the fact that a flag with a swastika was waved on the Gaza border, adding that "our hearts are torn at the sight of horror" over Syrian President Bashar al-Assad's use of chemical weapons.

Alleged chemical attack in Douma (צילום: רויטרס)

"One big lesson that has escorted us since the Holocaust is that murderous evil that is not confronted rapidly spreads. Gradually, it threatens all of humanity," Netanyahu warned.

This was his main message, he added, at the Munich Security Conference two months ago.

"I went as the prime minister of Israel to Munich aware of the difficult incidents that had taken place in the city. In Munich, the Nazi oppressor began to spread the terrible race theory," Netanyahu said.

"In Munich, leaders of the free world signed 80 years ago the appeasement agreement with the aggressor. They sought to avoid war, but their concessions only brought it closer, increased its damage and brought about the occupation of the whole of Europe."

Israel, he vowed, will never act in "this mistaken way. We stop the the aggression at the bud, and these are not just empty words. We back them up with action. Attacks against attacks, attacks in defense, for deterrence, attacks against anyone who threatens to destroy us.

"Because today as well, an extremist regime threatens us, threatens peace of the entire world—this regime explicitly declares its intention to destroy us, the state of the Jewish people," he said.

Drawing the comparison once again with the 1938 Munich Agreement in which UK Prime Minister Neville Chamberlain signed a deal with Adolf Hitler believing he had solicited guarantees from the Nazi dictator not to make any more territorial expansions, Netanyahu said that the Iran nuclear deal was similar, in the sense that "it is not worth the paper it is written on."
Photos show attacked Iranian base
Iranian news agency Tasnim published new photos from the T-4 military base in Syria on Wednesday morning, the first since it was bombed earlier this week in a strike attributed to Israel.

The strike, which apparently destroyed an Iranian drone base, claimed the lives of 14 military personnel, among them at least seven Iranian "military advisers."

Israel has neither confirmed nor denied its involvement.

The Associated Press and Reuters contributed to this report.