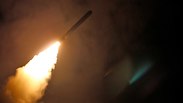 An American Tomahawk missile fired during the strike on Syria
Photo: AP
Russia: West's Syria strike 'hooliganism', US: 'Locked and loaded'
Russia, Western countries clash during emergency UN Security Council for session to condemn early morning strike on Syria following Assad regime's alleged chemical weapons use; Russian ambassador: strike 'diplomatic hooliganism'; British ambassador: 'Refuse to be chastised by Russia'; US ambassador: US 'locked and loaded if Syria foolish enough to test our will'; draft resolution voted down.
The United Nations Security Council held an emergency meeting following the strike carried out in the early hours of Saturday by the United States, Britain and France against Syria as a punitive measure for its alleged use of chemical weapons on Douma residents last weekend.

The special meeting, convened at the behest of Russia—chief ally to Syrian President Bashar al-Assad—began at 6pm Israeli time.

The Reuters news agency reported that Russia intended to bring up to a vote in the council a draft resolution condemning the Western attack and maintaining that it was "aggression against the Syrian Arab Republic by the US and its allies in violation of international law and the UN Charter."




The Russian-drafted resolution failed to pass. Only Russia, China and Bolivia voted in favor of the draft resolution. Eight countries voted against the draft, while four abstained. A resolution needs nine votes in favor and no vetoes by Russia, China, France, Britain or the United States to pass.

The Security Council's session was opened by Russian Ambassador Vassily Nebenzia, who said that the attack was "an aggression (against) a sovereign state, which is on the front line of the fight against terrorism" and accused the US and its allies of "diplomatic hooliganism" for their "blatant disregard of international law."

Nebenzia also added that the military action threatened the UN's attempts to bring about a political resolution to the years' long civil war in Syria.

Speaking after the Russian was US Ambassador Nikki Haley, who said the attack was carefully planned to minimize the number of civilian casualties. She stressed the strike was justified, legal and proportional, saying, "The time for talk ended last night. We are prepared to sustain this pressure, if the Syrian regime is foolish enough to test our will "

"The United States is locked and loaded," she stated. "When our president draws a red line, our president enforces a red line."

Britain's Ambassador Karen Pierce, for her part, rebuffed Russia's allegations, saying, "A use of force intended to prevent the murder of so many innocents cannot be deemed to be 'illegal.'"

Pierce also stressed that London has tried repeatedly to halt the Syrian regime's actions by utilizing the Security Council, but failed to do so. "We're dealing with a long list of violations, with no remorse or feeling of responsibility shown—a long list of shameful actions enveloped in a mixture of denial, fraud and misinformation. I will not accept chastisements from Russia regarding international law."

UN Secretary-General António Guterres, meanwhile, urged "all Member States to show restraint in these dangerous circumstances and to avoid any acts that could escalate matters and worsen the suffering of the Syrian people."

Guterres then added that allegations of chemical weapons use in Syria necessitated an inquiry by the United Nations, whose investigators stood ready to visit the site of the purported attack.

The Syrian crisis, now in its eighth year, was "the most serious threat to international peace and security," Guterres maintained.

"In Syria, we see confrontations and proxy wars involving several national armies, a number of armed opposition groups, many national and international militia, foreign fighters from everywhere in the world, and various terrorist organizations," he said.

The secretary-general reiterated that there was no military solution to the crisis, only a political one.

The Associated Press and Reuters contributed to this report.