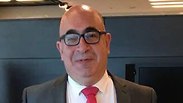 Amir Weissbrod
Photo: The Foreign Ministry
The Foreign Ministry says its new ambassador to Jordan is starting his posting, ending a months-long spat between the two countries over a deadly embassy shooting.

Amir Weissbrod's posting ends one of the tensest periods between Israel and Jordan since the two signed a peace treaty in 1994. Ministry spokesman Emmanuel Nahshon says Weissbrod arrived in the capital, Amman, on Monday.

The dispute began last July when a security guard at the Israeli embassy in Jordan shot and killed two Jordanians, alleging one attacked him with a screw driver. The Israeli guard and Israel's then-ambassador were given a hero's welcome by Israeli Prime Minister Benjamin Netanyahu, infuriating Jordan.

The embassy has been shuttered ever since.

Jordanian authorities say they suspect the shooting was unprovoked but could not investigate the guard due to his diplomatic immunity. The guard was since identified, much to Israel's chagrin after the shooting, by the Jordanian daily Al-Rad as Ziv Moyal, 28. His diplomatic identity card was also published, delivering a blow to Israel which had censored the publication of his details.

Israel, though, vowed to take any necessary "legal measures" in the case, Jordanian spokesman Mohammed Momani said, without specifying what they were.

Earlier this year, the two sides said they found a way to overcome the crisis, including appointing a new Israeli ambassador.

Israel has since expressed its "deep regrets and apologies" over the incident, in particular over the death of the other Jordanian confirmed by the Israeli guard to have attempted to aid him against his attacker, and agreed to pay restitutions to the families of the two killed.