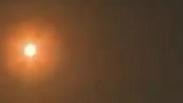 A false alarm led to Syrian air defense missiles being fired overnight and there was no fresh attack on Syria, state TV said Tuesday.

Syrian state TV reported overnight that anti-aircraft defenses had shot down missiles fired at the Shayrat air base in the Homs area, and a media unit run by the Lebanese group Hezbollah said missiles had also targeted an air base near Damascus.

A senior Syrian military official said six missiles were launched at a military airbase on the Homs suburbs, and three additional projectiles targeted a military airfield in a-Dumair, on the Damascus outskirts.

Footage of alleged missile interception in Syria

A commander in the regional military alliance that backs the Syrian government attributed the malfunction to "a joint electronic attack" by Israel and the United States targeting the Syrian radar system.

The issue had been dealt with by Russian experts, said the commander, who spoke to Reuters on condition of anonymity.

The US Defense Department quickly put out a statement in the wake of the reported attack saying, "There is no US military activity in that area at this time."

"We do not have additional details to provide," Pentagon spokesman Eric Pahon said.

The IDF Spokesperson's Unit has declined comment as well, and no reports pointed a finger in blame at Israel thus far.

Reports pointed to local rebel forces as responsible for the attack, acting as proxies for an Arab, American or other interest in the region—similarly to the activities of the Houthi rebels in Yemen being directed by Iran.

The reported fresh attack happened mere days after a US, British and French strike on Syrian targets in retaliation for a suspected chemical attack on the city of Douma on the outskirts of Damascus.

The Shayrat base itself was attacked last year by American forces as a punitive measure following an earlier chemical attack by Assad's regime in Khan Shaykhun.