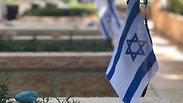 Memorial Day
Photo: IDF Spokesperson's Unit
Netanyahu: We'll keep defeating terror fanatics threatening to destroy us
Two-minute siren sounds across Israel at 11 am Wednesday, followed by ceremonies at country's cemeteries in memory of 23,646 fallen soldiers, security forces members and terror victims; 'We are here thanks to them,' prime minister says during state ceremony at Jerusalem's Mount Herzl. 'We aren't looking for adventures, but when it comes to the state's security, there will be no compromise and no blinking,' Defense Minister Lieberman says during a ceremony in Tel Aviv.
A two-minute siren sounded across Israel at 11 am Wednesday, followed by ceremonies at the country's cemeteries in memory of 23,646 fallen soldiers, security forces members and terror victims as part of Memorial Day.

The state Memorial Day ceremony on Jerusalem's Mount Herzl was attended by President Reuven Rivlin, Prime Minister Benjamin Netanyahu, Knesset Speaker Yuli Edelstein and IDF Chief of Staff Gadi Eisenkot.

"The people's love is given to your fallen loved ones and our fallen loved ones every day, especially today," Prime Minister Netanyahu told the bereaved families at the state ceremony, which took place for the first time at the new memorial hall unveiled last year.

Netanyahu went on to mention Private Moshe Israel Heiman, who was killed in a War of Independence battle in Jerusalem and his great grandson, Second Lieutenant Yuval Heiman, who was killed in Operation Protective Edge. According to the prime minister, "Moshe Israel Heiman, could have been discharged from service as a man with a family, yet he chose to stand guard day and night and face enemy fire.

"Moshe Israel Heiman suffered a lethal blow from a Jordanian shell. Paratroopers officer, Second Lieutenant Yuval Heiman, was killed four years ago. The battle Yuval participated in near Kibbutz Nir Am prevented a major terrorist attack. In a continuation of heroism, a legacy of heroism, the great grandfather was killed in 1948 and the great grandson was killed three generations later. They both acknowledged that our existence can only be secured by firmly standing against those seeking to destroy us while willing to pay the price of the battle.

"All of us—Jews, Druze, Christians, Muslims, Bedouin and Circassians—stand together against the terror fanatics threatening to destroy us, and together we'll keep defeating them," the prime minister said.

He said an IDF orphan had asked him earlier this week about his thoughts while sending soldiers to battle. "I told him that I think about the security of the state and its citizens, I think about the soldiers, I think about you and families like your family which might pay the heaviest price of all. I think about my brothers in arms who died beside me, about David Ben Hamo of Be'er Sheva who died in my arms.

"I always think about the price and how to prevent deaths, and at the same time I know that without the heroism and sacrifice of our fighters, our existence can't be secured. At moments of truth, we must defend our existence firmly, stand up to our enemies like a fortified wall. We are here thanks to the 23,646 fallen soldiers, whose names are on this wall."

The prime minister concluded his speech by pledging to keep up the efforts to return Israel's MIAs. "When the Independence Day events commence, our flag will be raised up high again. The sons and daughters, our fallen loved ones, will be with us. They are always with us."

Defense Minister Avigdor Lieberman also spoke during a ceremony held at the military section of the Kiryat Shaul Cemetery in north Tel Aviv.

"Here, in this place and in every military cemetery in Israel, there are no political parties or factions," he began in his remarks in a bid to sweep aside political differences as the country unites to remember its fallen soldiers.

"Here, there are no tribes and no political camps, but only one camp—the children of Israel camp, who sacrificed their lives for Israel's independence, for its security, for its future," the defense minister continued, as he called on the nation to unite.

"Like them, who did not flinch from the dangers and understood that there is no other way, we must also do the same, in their memory and in their spirit, to be one nation and one camp against the challenges that the State of Israel faces," Lieberman declared.

Turning to the current security situation in Israel, the defense minister bemoaned the fact that "the threats to harm us and destroy the State of Israel have not stopped, even today, 70 years after the War of Independence.

"That's why we need a strong and determined IDF and must understand that we live in a fragile and volatile reality, and at any moment we may need the strength and skill of the IDF and its commanders," the minister reminded his listeners.

"We aren't looking for adventures, but when it comes to the security of the State of Israel and its citizens, there will be no compromise and no blinking," he vowed as he concluded his remarks. "My advice to our neighbors, from north to south, is to take this into account and take it seriously."

Shin Bet Director Nadav Argaman said during a memorial ceremony for the organization's members, "We cherish the dedication and courage of the service's members. The Israeli public owes them a lot, in most cases without knowing a thing about their actions and contribution to the security of he people and the state. Our friends' will may not be heard, but it's with us throughout the way.

"We are turning the loss and the pain on a daily basis into a source of power and inspiration, to keep working for life, for the people and for the state. In its 70th year, Israel is stronger than ever, more technological than ever, more innovative than ever. Its finest sons are in our organization, in a variety of professions and roles. We are proud of that, and keep instilling the organization's legacy in them."

Police Commissioner Roni Alsheikh said earlier at a ceremony held at Mt. Herzl for officers killed in the line of duty that "Israel's history accompanies the endless struggle for the existence and the security of the state, which has entailed the expensive price of blood.

"Even when we are sovereigns in our land, we are required to continue to fight for the preservation and strengthening of our sovereignty and for peace for all our citizens, against the phenomena of stabbings, an ancient weapon and, of course, against other other more dangerous weapons and even unconventional weapons," he continued.

"Just like then, today the spirit and determination of the soldiers who defend the people stands up to the test. Just like then, today we can, together, defeat anyone who seeks our downfall."
'Terrorists robbed us of huge souls'
A memorial ceremony for terror victims took place at 1pm on Mount Herzl.
"We have lost remarkable figures," Prime Minister Netanyahu said during the ceremony. "When I look at the pictures and hear the stories, I immediately know, like all the people of Israel know, that the terrorists robbed us of huge souls.
"We will chase every despicable murderer while pursing our loved ones' mission. We will settle the land, put down roots, build communities, strengthen mutual responsibility. Our culture of life and light wll defeat their culture of death and darkness. We have strength, willpower, persistence. We will all stand shoulder to shoulder and pass the torch of mission from hand to hand, from heart to heart."
According to the Family, Commemoration and Heritage Wing of the Ministry of Defense, some 1.5 million people were expected to visit the 52 military cemeteries, hundreds of military plots and thousands of graves across the country on Memorial Day.
The Defense Ministry organized hundreds of buses and shuttles to transport bereaved families to the military cemeteries, while its commemoration wing personnel was expected to lay 135,000 wreaths on graves.
Hundreds of thousands of water bottles were to be handed out to families and members of the general public visiting the cemeteries. Magen David Adom deployed 132 mobile units to cemeteries.
For the first time, all memorial candles were lit at the Mount Herzl memorial hall. Aryeh Mualem, the head of the Defense Ministry's commemoration wing, said that "the vision that led to the construction of the hall was born of a need of bereaved families, who approached me over the years asking to ensure the memory of the fallen would never be forgotten. It was my moral duty to grant their request."
Yael Freidson, Itay Blumenthal, Shahar Hay, Yoav Zitun and Adi Rosenberg contributed to this report.