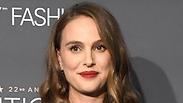 Natalie Portman's double standards
Op-ed: Anyone who claims to love Israel should understand Israel is a democracy. Anyone who claims to love Israel doesn't boycott Israel. Anyone who boycotts Israel bolsters our haters, the demonization campaign and the BDS movement, which opposes the state's actual existence.
Natalie Portman's refusal to come to Israel has created quite a buzz. From The Washington Post to The Guardian, from The Telegraph to Reuters, the headlines are similar and homogenous: "Portman won't visit Israel due to recent events."

Most reports attributed the actress' refusal to the events in Gaza, following claims that innocent people had been shot. In a clarification statement issued Saturday, Portman implied that she decided not to come to Israel because of the refugee issue.

But the clarification arrived too late. The refusal to come to Israel was seen, rightly, as a move aimed at reinforcing the boycott. Israel's haters haven't received such a significant gift in a long time.

The protest, any protest, is part of the democratic discourse. There is a difference, however, between the public debate in Israel and Portman's boycott, because Israel has been receiving a hefty, exaggerated and obsessive dose of demonization. Portman didn't help the relevant criticism; she helped the demonization campaign.

Countries like Denmark, Sweden, Switzerland, Finland, and definitely in the United States have been making decision on refugees and asylum seekers. The decisions generate criticism and a public debate, as well as judicial decisions. But no one has chosen to boycott those countries, or ceremonies that are held in those countries, or the leaders of those countries, because of controversial decisions.

When it comes to a boycott of Israel, or "only" of the Israeli prime minister, the boycott is much more serious, because Israel is the only country in the world forced to deal with a propaganda of horrors. The claims against Israel are based on a worldwide propaganda of lies. It's not that Israel can't be criticized. But people of moral and conscience should speak out against the propaganda of horrors rather than reinforce it.

Portman's move joins the march of double standards against Israel. When Israel defends itself against jihad organizations, like Hamas and Hezbollah, every Israeli response is turned into "crimes against humanity." Is every country allowed to defend itself, excluding Israel? Are the US, France and Britain allowed to strike in Syria—although it doesn't pose an existential threat to them—while Israel is forbidden to retaliate against those who are trying to harm it and who also happen to hold an ideology of annihilating Jews? The boycott supporters are not just hypocritical. They are carrying out a moral crime against one nation of all nations.

Dear Ms. Portman, we've had enough of these double standards, even when they come from those who claim to "love Israel." Anyone who loves Israel should understand it's a democracy. Anyone who loves Israel doesn't use double standards and doesn't boycott. Anyone who boycotts Israel bolster our haters, the demonization campaign and the boycott movement, which opposes Israel's actual existence.

Portman says she doesn't want to bolster Benjamin Netanyahu by appearing beside him. Well, I have news for Portman. We constantly voice claims against the prime minister. Even you, Ms. Portman, have voiced blatant criticism against Netanyahu in the past. And although the prize committee includes a member representing the prime minister, the committee decided to give you the prize. That's Israel's democracy. We are proud of it.

We know that our law enforcement systems are functioning. We have already sent a president and a prime minister to jail. We aren't proud of it, but we do take pride in the fact that Israel is a law-abiding state. The current prime minister is under investigation too, because Israel is a democracy and a law-abiding state. But a boycott? Absolutely not. That is not the way to fix something. That's the most efficient way to bolster Israel's haters.

The BDS movement is already celebrating following Portman's boycott and has even added her to its ranks. No clarification on the issue is going to help. By refusing to come to Israel to receive the prize, Portman gave a prize to the anti-Israel propaganda, which isn't fighting for a more liberal, humane or democratic Israel, but for Israel's destruction. I assume that wasn't Portman's intention, but that's the result. Portman is invited to review the reactions, in the world and on social media, to her boycott announcement. If she has any integrity, she'll realize she has made a mistake.