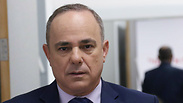 Energy Minister Yuval Steinitz
Photo: Avi Moalem
Steinitz: Assad will suffer consequences of any attack on Israel
Energy minister says Syrian leader jeopardizing his regime and entire existence by allowing anyone, including Iran, to declare war on Israel from Syrian territory; 'I hope this is clear to the Iranians and to Assad, who may be taking risks he will live to regret.'
Energy Minister Yuval Steinitz said Monday that if Syrian President Bashar Assad let anyone declare war on Israel from Syrian territory, he would suffer the consequences.

In an interview to the Ynet studio, Steinitz was asked about Iranian Foreign Affairs Minister Mohammad Javad Zarif's clarification Sunday that Tehran saw no possibility of widespread military conflict.

"The Iranians may be trying to lower tensions in the United States, but in the region they are increasing tensions and instability, in Syria and in the entire region," the minister replied.

"What Zarif says in English may be important, but the more important thing is that Iran has already sent a drone strapped with explosives to infiltrate Israel's borders. Even more important is the Iranian attempt to turn Syria into a military base for Iran, the Revolutionary Guards and the Iranian army, and that is something we won't allow of course."

He added that "if Assad, as the Syrian leader, allows anyone, Iran or anyone else, to declare war on Israel from Syrian territory, he will suffer the consequences. He is jeopardizing his regime and his actual existence. Why it's unthinkable that Assad will keep sitting quietly in his palace while a war is being declared on Israel.

"I believe that what is taking place in Syria could be critical for our future and security. Naturally, I hope things won't develop into a comprehensive war, but our determination to prevent an Iranian military base on our northern border is clear. I hope it's clear to the Iranians too, and I hope it's clear to Assad, who may be taking risks he will live to regret.

"The same applies to Hamas and to the Palestinian Authority," Steinitz added. "The aggression comes from the other side, the attempts to challenge us come from the other side, so our determination should be clear both on the ground and in a verbal and rhetoric manner.

"Our battle against Hamas is successful. We have developed technological scientific ways of removing Hamas' tunnel threat. Just like we are removing tunnel threats underground, we will remove threats above the ground, in the air, by rockets or armed drones. The people of Israel will find solutions to the terror threats just like they have done in the past."

Asked whether he recognized the photofits of the suspects involved in the assassination of Hamas electrical engineer Fadi Albatsh, which were released by the Malaysian police Monday, Steinitz replied: "I am unfamiliar with the citizens of Finland or Sweden. I think someone raised the possibility that it came from there. But really, I don't want to comment on any specific rumor, report or incident."
A more balanced 'notwithstanding clause'
Steinitz also told Ynet he was in favor of a more moderate "notwithstanding clause," aimed at preventing the High Court of Justice (HCJ) from striking down legislation, than the override power suggested by Education Minister Naftali Bennett.

"The current situation must be fixed," Steinitz told Ynet on Monday morning. "Not only is judicial activism is unhelpful, but it harms democracy, contradicts the values of democracy and contradicts the proper separation of powers. But when one distortion is fixed, there is no need to another extremism and create a different distortion.

"I don't think that judicial control should be prevented altogether, which is why I'm in favor of a moderate and balanced notwithstanding clause. I thought the right number should be a majority of around 65 Knesset members. More importantly, the system I'm thinking about requires a vote by two Knessets before the notwithstanding clause actually goes into effect."

According to Steinitz, this proposal is more balanced than the education minister's suggestion that a 61-MK majority would allow the law's enactment.