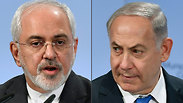 Iranian FM Zarif (L) and PM Netanyahu
Photo: AFP
Iranian FM Zarif, PM Netanyahu trade barbs over Iranian regional involvement
In full CBS interview, Iranian foreign affairs minister blasts Israel for its 'internationally illegal' incursions into Syria under cover of American 'smokescreen', but says his country does not desire war; in pointed message to President Trump, Zarif iterates Iranian desire for being shown more respect by US administration; PM Netanyahu offers rejoinder, saying Zarif belongs to country that sent 'armed drones' against Israel, 'missiles' against Saudi Arabia.
Despite combative statements by the Islamic republic in the wake of a strike on an Iranian compound in the T-4 Airbase in Syria attributed to Israel, Iranian Foreign Affairs Minister Mohammad Javad Zarif clarified Sunday that Tehran saw no possibility of widespread military conflict.

"I do not believe that we are headed towards regional war," Zarif told CBS's Face the Nation in the full interview released Sunday afternoon. He did, however, qualify his statement by saying that "Israel has continued its violations with international law, hoping to be able to do it with impunity because of US support and trying to find smokescreens to hide behind."

"And I do not believe that the smokescreens work anymore," he added ominously.

In a ceremony at the General Staff in honor of Israel's 70th Independence Day, Prime Minister Benjamin Netanyahu countered Zarif's remarks.

"This is the foreign minister of a country that sends armed UAVs (drones) against Israel and missiles at Saudi Arabia," the premier said at the event, also attended by Defense Minister Avigdor Lieberman and Chief of Staff Gadi Eisenkot.

"I also heard his moderate remarks and there is a tremendous gap between his words and the actions of the Revolutionary Guards which are moving an army against Israel with the avowed goal of destroying the State of Israel. I am not impressed by words," Netanyahu stated flatly.

The prime minister also reiterated his confiendece in the army, which he said was "prepared for any possibility and any scenario." Netanyahu then raised a glass to both the state and its army.

The same Revolutionary Guards sent out threatening statements last week following the T-4 strike. Iranian Foreign Ministry Spokesman Bahram Qassemi echoed their words, when he said Israel will "sooner or later receive the necessary responses to its recent crime and aggression."

"Gone are the days when the Zionist regime would hit and run. The resistance forces and Syria can defend their territorial integrity and national sovereignty," he asserted, before sending his condolences to the families of the Iranian casualties of the strike.
US disrespecting Iran, Zarif says
On the topic of the United States, the Iranian foreign affairs minister harshly criticized its conduct vis-à-vis its attitude towards other countries, emphasizing Iran. "The United States needs to learn how to treat other sovereign nations, particularly sovereign nations who do not depend on the United States for continued existence and who can live without US support not only for two weeks, but for 40 years," he said.

Zarif issued the aforementioned criticism, which may have also been a veiled shot at Israel itself, after interviewer Margaret Brennan asked him whether Iran would consent to holding talks with the US regarding the freeing of five American hostages held in Tehran.

"You do not engage in negotiations by exercising disrespect for a country, for its people. For its government by openly making claims including this illusion about regime change. Then you do not leave much room for a genuine dialogue," Zarif explained.

The Iranian also commented on the personal style of US President Donald Trump, stressing it required "a change of attitude… And a change of language."




On his country's support of Syrian President Bashar Assad's regime, Zarif said, "Iran has been a victim of chemical weapons. We have rejected the use of chemical weapons regardless of the victims or culprits, regardless of the victims or perpetrators."

"It makes us uncomfortable to see the continuation of bloodshed in our region," he added, directing his next comments at Saudi Arabia and the US alike, "because there are some rather young and ambitious leaders who believe that they can have military victory in Yemen. They believe that they could unseat Assad."

In the preview of the interview broadcast Saturday, Zarif was shown warning that Iran was ready to "vigorously" resume uranium enrichment "at a much greater speed" if the US abdicated its part in the 2015 nuclear deal.

The "probable" Iranian response to an American withdrawal from the nuclear deal, Zarif elucidated, was a return to enriching uranium—a key ingredient in nuclear bomb-making—despite the fact Iran was disinterested in acquiring such capabilities, as per the minister.

Zarif speaking to Face the Nation

Trump will decide by May 12 whether to restore US economic sanctions on Tehran, which would be a severe blow to the 2015 pact between Iran and six major powers. He has pressured European allies to work with Washington to fix the deal.

Iran disabused its Western partners to the deal of the notion it could be renegotiated, going so far as to threaten countermeasures if Washington bowed out, despite remaining vague on the details.

Earlier this month, Iranian President Hassan Rouhani said Trump will "regret" pulling out of the deal, and that Iran will retaliate for such an action "within a week."

Zarif himself previously said on the same matter that Iran had several options in case of a US withdrawal, and that its response will not be pleasant.
Macron: No 'Plan B' for nuclear deal
Concurrently to Zarif's interview, French President Emmanuel Macron—whose country is also party to the nuclear deal—gave an interview to Fox News in which he said he has no "plan B" for the Iran nuclear deal and that the United States should stay in the agreement as long as there is no better option.

In the Fox News interview Sunday, the day before he arrives in Washington for a three-day state visit, Macron also said the United States, France and other allies will have a "very important" role to play in rebuilding Syria after they defeat Islamic State militants.

President Donald Trump has said he wants US forces to leave Syria as quickly as possible, but Macron warned that Iran, which has been Syrian President Assad's most supportive ally, will overrun Syria if the countries exit too quickly.

Macron and Trump will discuss the Iran nuclear agreement at the White House on Tuesday, a senior US administration official said on Friday. They will also discuss the joint military strike on Syria this month following a suspected chemical weapons attack near Damascus, the official said.

The 2015 deal reached between Iran, the United States and five other world powers put curbs on Iran's nuclear program in exchange for sanctions relief.

"I don't have any plan B," Macron said. "Let's present this framework because it's better than the sort of North Korean-type situation."

Macron said he wanted to "complete it" by addressing ballistic missiles and working to contain Iran's influence in the region.

Reuters contributed to this report.